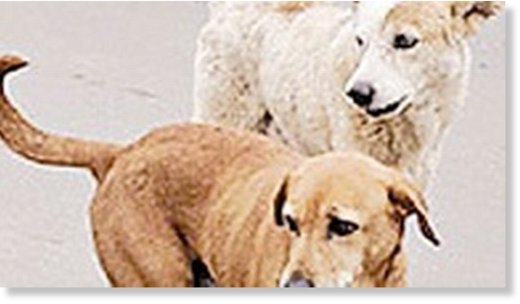 The mutilated body of a girl baby, aged around 18 months, was found behind the St Francis Xavier Cathedral on Promenade Road in Fraser Town on Friday night.
Based on eyewitness accounts, the jurisdictional Bharathinagar police suspect that the toddler was mauled to death by stray dogs.
Local residents who noticed the mutilated body informed the police at around 7.30 pm on Friday. The police immediately shifted the body to the Bowring and Lady Curzon Hospital.
A few people told the police that they saw a few dogs biting the baby. "They chased away the dogs and tried to rescue the baby. However, the baby had died by then
. The identity of the baby is yet to be established," said the Bharathinagar inspector.
According to sources in Bowring and Lady Curzon Hospitals, the child was brought dead by the police and no one has claimed the body so far.
When contacted, Pulakeshinagar ward corporator Abdul Zakir said it is still not confirmed whether the baby had died due to an attack by stray dogs. Zakir said he had already discussed the incident with the BBMP officials and would again take it up on Monday. Zakir said the stray dog menace has increased in last few months and the BBMP was taking steps to check the problem through sterilisation programmes.
Incidentally, the increasing garbage menace and the suspension of Animal Birth Control (ABC) programmes in certain areas have led to an increase in stray dog population. After a toddler, Kumaraswamy, was mauled by a pack of stray dogs in JP Nagar last year, Joint Director (Animal Husbandry), BBMP, Dr Shivarama Bhat had stated that the only way to reduce stray dog attacks on humans was to tackle the garbage crisis and adopt street dogs. "People should stop feeding stray dogs on roadsides and not dump garbage on streets," he had said.
NGOs in the City have completely suspended animal birth control and anti-rabies vaccination drives on stray dogs in several areas since October 2014 due to inordinate delay on the part of the BBMP in making payments. The work was resumed in some areas later.