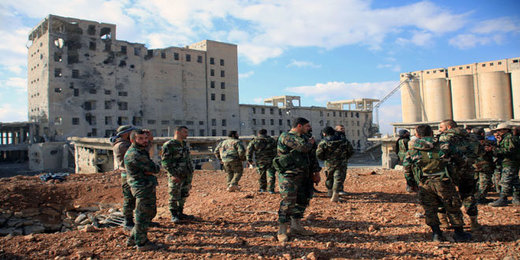 The army destroyed positions of al-Nusra Front terrorists in the city of Aleppo in Northern Syria on Tuesday. The army destroyed al-Nusra-linked terrorists' positions in the neighborhoods of al-Sheikh Lutfi, Hanano, Karm al-Tahhan and al-Jazmati in Aleppo city. There were no more details available.
Earlier on Tuesday,
the Syrian army troops destroyed strongholds of terrorists in several areas across the province of Aleppo as the army intensified its anti-terrorism operations against the foreign-backed militants.
A military source said the terrorists' vehicles and positions in Tal Istabl, Nejarah, Rasel al-Kabir, Khan al-Assal and al-Atareb in the countryside of ‪Aleppo were destroyed in the military operations.
The militants suffered heavy death toll in the army's attacks, informed sources said. However, there were no immediate reports of the exact number of the dead terrorists.
.