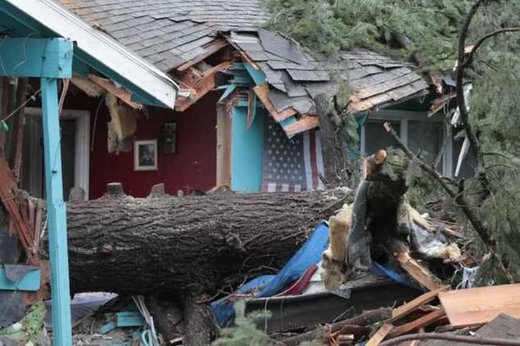 Torrential rains pummeled parts of the Pacific Northwest early Wednesday causing mudslides and flooding roads, leaving two women dead in Oregon and sweeping seven people into a Washington river, where they were rescued.
A large Douglas fir tree crashed into a Portland home early Wednesday, killing a 60-year-old woman who was in bed.
The tree, roughly 30 inches in diameter, was uprooted and sliced through the house, pinning the woman underneath.
Next door neighbor Sam Choumxay said he watched in horror as the tree fell onto his neighbor's house with a thud. The tree top slammed into two cars in Choumxay's driveway.
Choumxay said he ran outside, made it around the tree, and raced to his neighbors' front door.
"Is anybody hurt? Is anybody hurt? I just kept calling to them," he said.
On Wednesday afternoon, a woman drowned after her car became submerged on a flooded road about 60 miles northwest of Portland in Clatskanie, Oregon, The Oregonian reported.
Firefighters rescued a man they found standing on top of a car in knee-to-waist deep water. They said the man drove himself and the woman into high water where the road was closed near U.S. Highway 30 and Lost Creek Road. The car then sank.
Responders found the woman dead at the scene.
More than 5 inches of rain have fallen on Portland since Sunday, and strong winds have uprooted trees from the saturated ground. At Sea-Tac Airport, where the official weather for Seattle is recorded, the weather service says 2.13 inches of rain fell Tuesday. That beats the previous Dec. 8 record of 1.61 inches.
In western Washington, seven people were swept into the Puyallup River from a riverbank homeless camp Wednesday morning.
Someone called 911 around 6:30 a.m. to report that people were in the river up to their waists and chests beneath the State Route 512 overpass,
The News Tribune
newspaper reported.
All were pulled out of the river by Central Pierce Fire & Rescue by 8 a.m.
Nearby, a small RV park was evacuated Wednesday morning as floodwaters stranded several vehicles.
To the north, in Fall City, resident Eric West said flooding is typical for the Snoqualmie Valley, but this year seems to be a little worse, with three or four floods.
"Times are changing," West said. "Through the summer, we had the driest summer on record and now we're making up for all the rain we missed in the summer time."
The Red Cross opened four shelters Tuesday in Oregon and Washington and is supporting a fifth one.
The storm also led to power outages as well as some closed schools and post offices.
Officials with Puget Sound Energy say power was restored to more than 60,000 homes and businesses in western Washington on Wednesday. Crews were still working to restore power to about 15,000 customers in the area.
Portland General Electric officials said they restored power to about 55,000 customers since the first wave of the storm Monday morning. Officials said power to the remaining 1200 customers would be restored Wednesday evening.
Andy Haner, meteorologist at the National Weather Service in Seattle, said
every major river in western Washington has reached or will reach a minor flood stage over the next few days.
"This is a pretty significant flood event," he said, due to what the service is calling
a parade of storms
.
In south central Washington, transportation officials closed a 45-mile stretch of U.S. Route 12 after rains washed out a portion of the road west of White Pass. Sheriff's deputies said they rescued several people from their homes in the area Tuesday night and early Wednesday after river flooding trapped them inside.
The Oregon Department of Transportation said landslides and high water closed parts of many state highways.
On Wednesday afternoon, the Washington Department of Transportation closed all lanes of northbound Interstate 5, the state's busiest highway, in an area about 30 miles north of Portland due to a slide that brought rocks and mud onto the road. Officials said the closure would remain in effect at least overnight.
Sound Transit officials in Seattle said their Northline commuter trains would remain out of operation Thursday due to extremely high soil saturation levels. A slide shut down operations on Tuesday.
Washington Gov. Jay Inslee also declared a state of emergency Wednesday due to damage from the ongoing storms that began Nov. 30.
High water was a problem along the Oregon Coast, where pooling caused road closures, stranded cars and flooded neighborhoods. Heavy damage from flooding led officials in Tillamook County to declare an emergency to free up funds for repairs, county commission chair Tim Josi said.
"We've got road closures all over, landslides, culverts out, roads washed out, buildings flooded. It's more than our county budget can handle," Josi said, estimating that damage will top $1 million. An RV community, a long term facility and households were evacuated.
Highway 101 north of Tillamook remains closed, he said. The city of Wheeler also declared an emergency, Josi said, after the road cracked open and damaged the water system.
AP journalists Ted Warren, Manuel Valdes, Phuong Le, Donna Blankinship and Lisa Baumann in Washington state and Steven Dubois in Oregon contributed to this story.