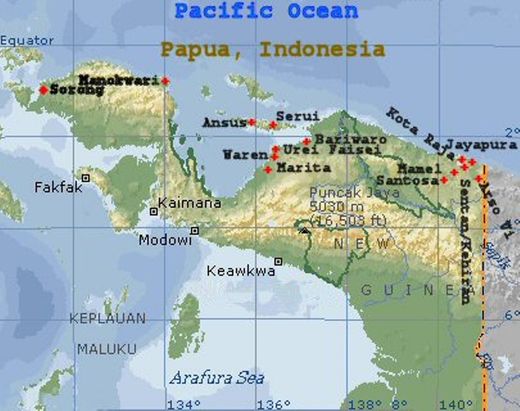 A large number of children, many below the age of seven, have died of an unexplained disease in Mbuwa district, Nduga regency, Papua, following the start of the rainy season in early November.
A medical team consisting of health workers from Nduga, Wamena and Jayawijaya regencies arrived at the location but have yet to ascertain the cause of the deaths.
"As many as 41 children have died, as of today. They present with a slight illness at first but die shortly after these initial signs
. The medical team from Nduga Health Office, assisted by the Wamena Health Office may have returned home, but the
cause of these deaths remains uncertain
," said Mbuwa district chief Erias Gwijangge, during a call to
The Jakarta Post
on Monday.
Erias said Nduga and surrounding areas had experienced drought and
were exposed to haze from forest fires.
Rain only fell in the past month.
When the rain began, a number of livestock, such as pigs and poultry, also died abruptly
.
"Many of the children died prior to the livestock but there was no report of child fatalities, only in the last three days," said Erias.
When contacted by the Post, Wamena City community health clinic analysis member Yan Hubi, who joined the trip to Mbuwa district, said his clinic analyzed blood samples of the children to find out if the children had been infected by malaria, but all were negative.
Yan returned to Mbuwa on Nov. 17. A doctor and several other medical workers are also continuing to conduct medical treatment in Mbuwa.
According to Yan, when a long drought hit the Pegunungan Tengah mountain range region in 1998, including Nduga, a malaria epidemic took place and killed hundreds of people. The symptoms of those who died were similar to the recent deaths.
"They initially caught the flu, then diarrhea and then later, they died. We asked for malaria analysis, conducted a rapid test in the district and later a microscopic test at a lab in Wamena.
Of the 70 blood samples, all were negative for malaria
," said Yan, who was also involved in blood analysis during the 1998 malaria epidemic in the Pegunungan Tengah region.
Indonesia is among 22 countries in the Asia-Pacific region that face a malaria endemic that causes an estimated 32 million infections and more than 47,000 deaths annually.
Five provinces including Papua, West Papua, Maluku, North Maluku and East Nusa Tenggara contribute to escalating malaria cases in Indonesia, with 1.38 infections per 1,000 people reported in 2014.
Last month, Bill Gates, cochair of the Bill & Melinda Gates Foundation and Ray Chambers, the UN Secretary-General's special envoy for financing the Health Millennium Development Goals for Malaria, launched an in-depth report on the measures required to eradicate malaria.
Pegunungan Tengah member of the Papua People's Assembly (MRP) Luis Madai said the deaths of the 41 children should be immediately investigated by the Nduga regency and Papua provincial administrations, as well as the Health Ministry.
"It is a tragedy and every stakeholder must immediately take measures to resolve the incident. We must immediately find out the causes and provide help," said Madai.
He added the Pegunungan Tengah region was hit by the hog cholera virus from 2005 to 2010 that caused thousands of livestock, especially pigs, to die.
"We fear the virus has mutated to humans and this must immediately be analyzed,"
said Madai.
Madai has urged the Papua Health Office to
declare the deaths of the 41 children as an extraordinary occurrence
, as a matter of immediate urgency, to ensure the issue receives significant and sufficient handling so as to prevent the epidemic in Mbuwa from spreading to other areas in the Pegunungan Tengah region.
Nduga regency gained autonomy from Jayawijaya regency based on Law No. 6/2008 and was inaugurated as a definitive regency on July 21, 2008.