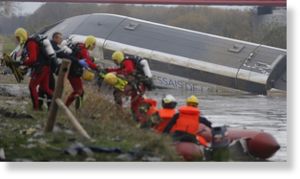 The highly suspicious declaration by French authorities only hours after
the crash of a TGV train,
at 3.10pm
on November 14th on the Paris-Strasbourg line, that the train derailed due to "excessive speed" has since been contested by the driver of the train himself, who asserted that he was operating the train at the designated speed for that part of the track: 176km/h.
Bizarrely, even before the contents of the train's "black box" have been analyzed, and indeed on the very same day as the crash (one day after the Paris attacks), French prosecutors appear to have
discounted sabotage as a possible cause
, despite
the fact that an explosion was heard
as the train derailed
, and that in its more than 30-year history, no TGV train has been involved in a fatal crash.
One possible reason for this irrational approach to the disaster that killed 11 people and injured 42, is that
any reference to a terrorist attack as the cause of the derailment would immediately recall the worst terrorist atrocity in France prior to the Paris attacks last weekend.
On June 18th, 1961,
at 3.10pm
, a French train on the Paris-Strasbourg line derailed, killing 28 people and injuring 170
. Several days before, a stationmaster near the crash site received a letter threatening an attack on the line. The letter was apparently ignored by police and the truth about the attack -
that it was caused by a bomb on the line
- was kept secret for 20 years.
The reason for the cover-up appears to have centered on the fact that the perpetrators were members of a NATO covert paramilitary force tasked with carrying out terrorist attacks on French civilians and politicians in an effort to influence French public and political opinion on the question of Algerian independence, and ensure the continued allegiance of European countries to NATO's ideology of thwarting closer Soviet-European ties. At one point the group, known as the
Organisation of the Secret Army
(OSA),
attempted a coup d'etat
against the government of Charles de Gaulle.
It is possible therefore that the reason French authorities were so quick to discount terrorism as the cause of the TGV crash one day after the Paris terror attacks was
to avoid establishing a link, if only circumstantial, between previous home-grown terrorism of the NATO variety, and the current Muslim terror threat.
Two threats which, in the final analysis, may be revealed as having the same origin.
Then again, the BBC seems to be blaming it on the children!