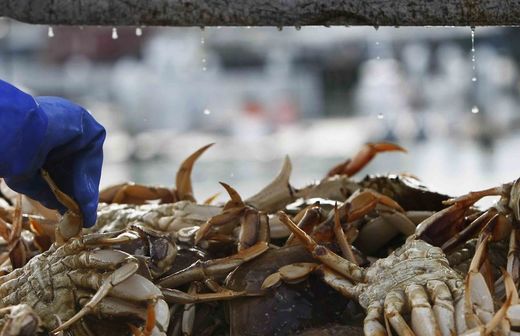 Do not — repeat, not — eat crab caught along much of the California coast until further notice. That's the stunning message issued Tuesday by health officials just days before Saturday's start of the recreational crab season, which may be delayed.
The California Department of Public Health is warning that potentially deadly levels of domoic acid have been found in Dungeness crab and rock crab caught along the coastline between Oregon and the southern border of Santa Barbara County. As a result, the state Office of Environmental Health Hazard Assessment is recommending the Dungeness season be delayed and the rock crab fishery be closed.
The Fish and Game Commission will hold an
emergency public meeting
at 8 a.m. Thursday in Sacramento, to be live-streamed on
Cal-Span
.
"Delaying or closing the season is disappointing," said Craig Shuman, marine regional manager of the state Department of Fish and Wildlife, which sets the dates for the season. "But public health and safety is our top priority."
On the mild side, toxic crabs can cause vomiting, diarrhea, abdominal cramps and headache, according to public health officials who say the symptoms can persist for days.
But severe poisoning can kill a victim, officials report. Short of that, the poisoning can also lead to permanent short-term memory loss, coma, seizures and other symptoms.
The 600-boat commercial crabbing season is scheduled to begin Nov. 15, and crabbers have been pouring into the Bay Area from Alaska, Oregon and Washington hoping to earn half their annual income. And Bay Area restaurants — and customers — expect crabbers to provide tons of crustaceans for the menus.
"It's going to be devastating" for the crabbers whose livelihood depends on this crucial time of the year, said Mike Dvorak, captain of the High Seas, a vessel big enough to collect 20,000 pounds of varied seafood in a single haul. Crabbers gross about $60 million a year. Halting the crab season would have a lesser impact on boat owners, he said.
"Those who aren't boat owners will say it's a disaster," he said. "They won't know what to tell their families."
Chefs like Gordon Drysdale at Scoma's on San Francisco's Fisherman's Wharf say they go through 40 to 60 Dungeness crabs a day. And during the holidays, they go through about 100 daily.
"It's a big deal for us. We're all kind of anxious," Drysdale said. At the same time, restaurants can get high-quality crab from elsewhere, he said. "We've had to have crab on the menu every day for 50 years, so everyone's pretty resourceful."
Boat owners believe this summer's warmer coastal water — 60-plus degrees on average, instead of the typical 54 degrees — is behind the toxic bloom.
Health officials say symptoms of poisoning can appear up to 24 hours after someone has eaten toxic seafood, though no illnesses have been reported.
Domoic acid is a naturally occurring toxin related to the rise of a tiny plant called pseudo-nitzschia.
Officials say they aren't sure why the plant has bloomed and tainted the crabs — and they don't know when it will subside
.
"The health advisory will be lifted once the levels are no longer above acceptable levels," they said.