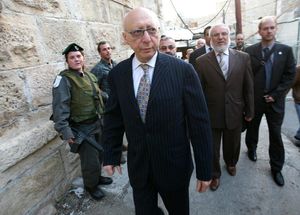 Labour MP Gerald Kaufman accuses Government of being swayed by 'Jewish money' He also said 'more than half' of the recent stabbing attacks against Jews in Israel had been fabricated
Labour MP Sir Gerald Kaufman has allegedly accused Israel of fabricating some recent stories about
knife attacks against Jews
in Israel, and claimed the Conservative party is influenced by "Jewish money," in a speech at a pro-Palestine event at Parliament.
As reported by
The Jewish Chronicle
, Kaufman, MP for Manchester Gorton and Father of the House, told the audience at a Palestine Return Centre event that
the Government has become more pro-Israel in recent years due to donations from Jewish groups.
"It's Jewish money, Jewish donations to the Conservative Party - as in the general election in May - support from
The Jewish Chronicle
, all of those things, bias the Conservatives," he said.
"There is now a big group of Conservative members of Parliament who are pro-Israel whatever government does and they are not interested in what Israel, in what the Israeli government does."
He added: "
They're not interested in the fact that Palestinians are living a repressed life, and are liable to be shot at any time. In the last few days alone the Israelis have murdered 52 Palestinians and nobody pays attention and this government doesn't care."
Kaufman then went on to claim
"more than half" of the stabbings that have recently happened in the West Bank, Jerusalem and the rest of Israel were fabricated
, in comments that were recorded by
blogger David Collier
.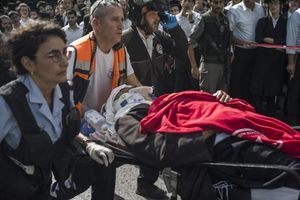 Reading from an email from a friend who lives in East Jerusalem, Kaufman said: "More than half of the stabbing claims were definitely fabricated. The other half, some were true, the others there was no way to tell since they executed Palestianians and no one asked questions."
"Not only that, they got to the point of executing Arab-looking people and in the past few days they killed two Jewish Israelis and an Eritrean just because they looked Arab. "They fabricated a stabbing story to justify the killings before they found out they were not Palestinians."
Kaufman was referring to an incident which took place earlier this month, in which an Eritrean man was killed by an angry crowd who incorrectly believed he was the accomplice of an Arab attacker.
The Palestine Return Centre, who organised the roundtable event where Kaufman made the comments, is a consultancy which focuses on issues relating to dispersed Palestinians and their return to Israel.
Kaufman has been an MP since June 1970, making him the longest-serving MP currently in the House of Commons.
He is Jewish, and has long been an outspoken critic of Israel and the Israeli government.