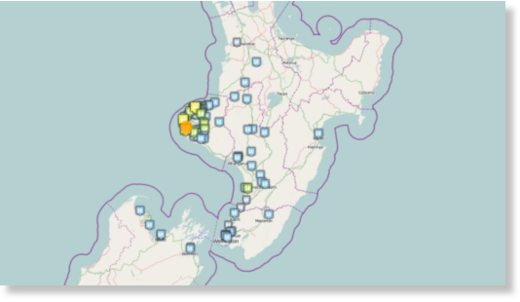 There was little time to drop, cover and hold when an earthquake hit in Taranaki this morning.
A strong 4.8 magnitude earthquake hit 20km north of Opunake at 9:05am, at a depth of only 18km, according to GeoNet.
The short, sharp jolt was almost over before it began, but sent hearts racing throughout the region.
Rocking and rolling over breakfast in Hawera! #eqnz
— Jayde Meech (@JaydeyMeechey) October 21, 2015
Ten minutes later, a 2.6 magnitude aftershock hit 15km north of Opunake at a depth of 17km.
The first quake was far felt as far north as Hamilton as far east as Hawkes Bay and far south as Blenheim.
GeoNet scientist Caroline Little said it was a moderately strong shake which was felt by many.
This mornings strong shake in New Plymouth is showing up on our drums across NZ https://t.co/uPRfa3yoty #eqnz pic.twitter.com/MTbv3xb6xq
— GeoNet (@geonet) October 21, 2015
"I think it took about 12 minutes to get over 1000 felt reports and they were from all over the North Island, or at least right through the centre of New Zealand," she said.
Earthquakes in the vicinity of Opunake were not uncommon, Little said.
"It's not the most active region for earthquakes in New Zealand but they definitely get their fair share."
Just about got under my desk #eqnz
— Bridget R (@beekaynz) October 21, 2015
Reports on social media indicated little, if any, damage was done.
The Central region fire service communications said they had not received any calls for help following the shake.
Rahotu School secretary Leanne Wiringi said despite a shaky start to the morning, their planned Calf and Lamb Day will still be going ahead.
Rahotu is located around 5km south of where the quake's epicentre was located.
The school had avoided any damage from the quake and the students conducted themselves very well, she said.
"It was a massive big rumble," she said.
Rahotu School had participated in the Shake Out earthquake reaction exercise last week, which was great timing, Wiringi said.
"Just as well we had done the earthquake drill last week.
"One student was talking on the phone to a parent at the time and ducked under the table and continued with his conversation," she said.
"It was a really good practice, just a real life one."
Rahotu Four Square worker Karen Lowry said the staff and customers in the store were caught off guard by the quake.
"They're pretty shaken, it was pretty out of the blue."
Lowry said they get quite a few earthquakes out their way but it's something you can never get used to.
Mum Hayley Duggan was at Opunake kindergarten when the quake struck and said the children had the chance to practice their Drop, Cover, Hold skills from the national Shake it Out day held earlier this month.
"All our kindy kids hit the ground like they practised DROP COVER HOLD," she posted on Facebook.
Will Johnston posted: "Dog barked first then I felt it. Seemed like two jolts - reminded me of my CHC days."
Facebook posters from New Plymouth, Urenui, Inglewood, Eltham, Kaponga and Hawera said they felt the quake, which started off as a small rumble and ended with an unnervingly large jolt.
Source: Taranaki Daily News