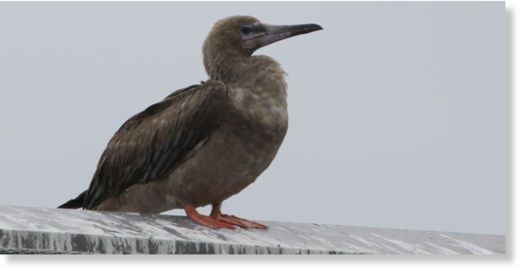 Georgia has a very rare visitor. It's a tropical bird, called a
red-footed booby
, and it's been hanging out on Saint Simons Island.
"It's the first time this species has been documented in Georgia, which is always kind of exciting for those of us interested in birds," said Tim Keyes, a biologist with the Georgia Department of Natural Resources.
"It's well out of its range. It's probably a bird that was blown north with Hurricane Joaquin."
Keyes said that birds that get blown off course by storms probably don't have a great chance of survival.
"It definitely appears to have been beat up a little bit in transit," he said. "But it was seen chasing a shrimp boat around today, so hopefully it's able to forage and put on some more fuel."
Red-footed boobies usually live on isolated tropical islands and they nest in Hawaii. They dive to catch fish and Keyes said they can even catch flying fish in the air.
"They're really spectacular birds," he said.
Keyes first identified the bird on Tuesday, and he said there's been a steady stream of birders from as far away as Atlanta and Athens traveling to see it.