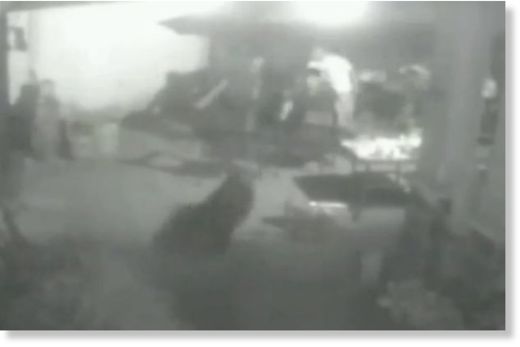 This terrifying footage, captured on CCTV, shows the moment a massive oar wandered into a heavily populated area
You've probably heard the expression 'bull in a china shop' but what about boar on a beach?
That's exactly what happened in this clip, when a 12 stone (176lb) boar invaded a tourist beach in China.
People were enjoying a relaxing meal outside when the massive animal appeared from nowhere.
The incident took place in Da Peng area of Shenzhen at around 9pm on September 19.
The footage, captured by a CCTV camera, shows the moment that the wild boar appeared and started to charge.
The animal then wandered towards the beach and proceeded to charge at random people, according to the
People's Daily
Online.
Several who could not get out of the way fast enough were bitten, too.
Anyone injured was taken to hospital and checked over, but no one was seriously hurt.
It's most likely that the boar got confused and lost and wandered into the area by mistake. It was shot by police, according to the Chinese news site.