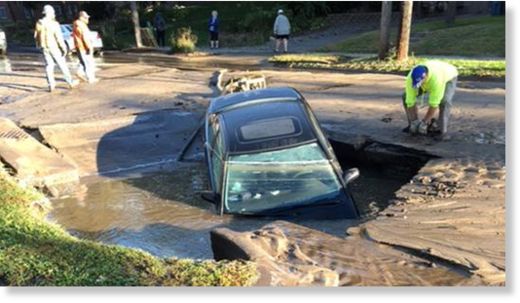 Minneapolis city officials said a water main break caused the sinkhole to form on Eight Street Southeast, not far from campus.
By Sunday afternoon, a sign near the sinkhole read, "Road closed ahead." It probably should have read, "Road no longer ahead."
"This entire area was just flooded," said Noah Hummel-Hall, who woke up early Sunday morning to find the street outside his apartment flooded.
First, there was a lot of water. Then, something strange happened.
"Suddenly, one of the cars was gone. We're like, 'Did it leave? How did it leave in the water? The engines can't run,'" Hummel-Hall said.
But the car wasn't gone. The 2002 Honda Civic had just gone fishing.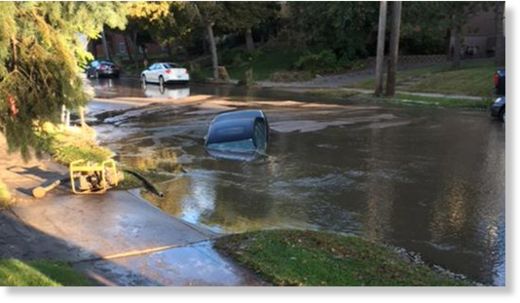 "The only thing I actually saw was walking out—water everywhere in the street, and my car was submerged into a big old hole," said Riley Holmseth, a U of M student who appears to have picked the wrong parking spot. "The front end was submerged down into the sinkhole, and then the back end was sticking out, so you couldn't see the hood or anything, but you could see the trunk and all that."
"I was kind of speechless, I guess," Holmseth said. "Everyone was saying, 'Oh, I'm so sorry! I'm so sorry!' I tried to stay positive and calm."
It appeared that a water main broke, and the resulting rush of water caused the pavement above it to collapse—causing Holmseth's vehicle to half-vanish into the void.
Public works crews spent several hours repairing some of the damage done on Sunday. But for Holmseth, the damage is total.
"If this gets fixed, I'm never going to park there again, that's for sure," Holmseth said, with a laugh.
As of Sunday night, it was unclear what caused the water main to break.