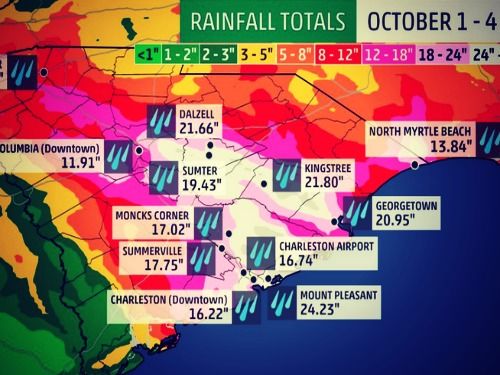 South Carolina state officials have sent out a statewide alert calling for people not to leave their homes as the state is being hit by what Governor Haley has referred to as a "1,000-year level of rain".
"Regardless of where you are in the state, stay home. Stay off the roadways," Haley urged S.C. residents.
A state of emergency has been issued and flash flood warnings are everywhere across the state. Six hundred National Guard troops have been deployed and hundreds more are currently on standby as curfews have been ordered.
Some interstates have been closed down completely. Five people have already died on dangerous roads this weekend, as nearly 20 inches of rain fell near Charleston and a whopping 24 inches of rain fell on Mount Pleasant, and all in less than 24 hours. Derrec Becker, South Carolina Emergency Management Division, reported that over 300 wrecks occurred in just one 12-hour period in the state on Sunday alone
.
Water line breaks have compromised drinking water supplies as well, and hundreds of thousands of residents have been left without potable water. A boil order has been issued.
It's not over, either. "Catastrophic flash flooding" was forecast overnight into Monday as more rain continues to fall.