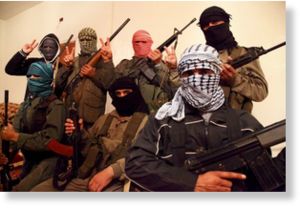 Three suspects testified Wednesday on Syrian state television that they received arms and weapons from abroad to fuel a wave of protests in the country.
Anas al-Kanj, who presented himself as the head of an "armed terrorist group" is heard saying in a taped broadcast that he received "arms and money" from abroad, namely neighbouring Lebanon, to fuel unrest.
Kanj, 29, said the funds and weapons were sent by Lebanese MP Jamal Jarrah through an intermediary, Ahmad al-Uda, who identified himself as a member of Syria's banned Muslim Brotherhood.
Jarrah is a member of the Future Movement of Lebanon's caretaker prime minister Saad Hariri, whose government collapsed in January after the Syrian-backed Hizbollah and its allies quit the cabinet.
Kanj said he was instructed "to incite people to protest, particularly outside the Ommayad Mosque in Damascus" and in the flashpoint protest towns of Daraa, Latakieh and Banias.
The ruling Baath party newspaper,
Al-Baath
, said the criminal gang was told to "incite protests to topple the regime and to carry out acts of sabotage" throughout Syria.
The official
Ath-Thawra
newspaper said that
Kanj was instructed "to open fire on protesters in order to sow disarray and lead people to believe that the security forces was shooting on the demonstrators."
State television also showed weapons seized, including pistols, hand grenades and automatic rifles.
Kanj said on state television that he recruited two other suspects, Mohammed Ahmad al-Sakhneh and Mohammad Badr al-Qalam, adding he was
told there were other "cells" carrying out similar duties in the country.
Al-Qalam said meanwhile that the trio
handed out money to protesters
and took part in demonstrations, while Sakhneh is heard saying that Kanj told them they would be well compensated for their activity.
The Lebanese MP named by Kanj denied any involvement.
"We have neither the desire nor the capacity or means to interfere in Syrian affairs. I neither know Ahmad al-Uda nor have any ties to him," Jarrah said on local television in Lebanon.
Syria repeatedly has accused "armed groups" of fuelling unrest in the country and the interior ministry promised to deal harshly with them.
Protests erupted in Syria on March 15 calling for an end to a decades-old state of emergency and sweeping political reforms.