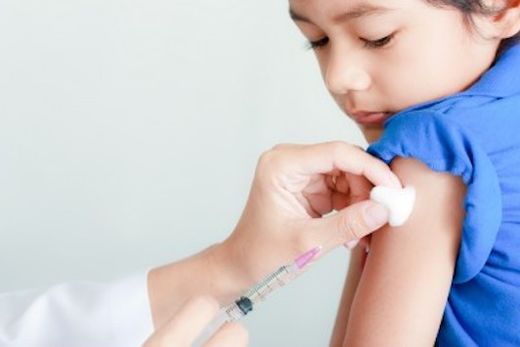 Chemicals that are commonly used in the production of vaccines, according to the CDC, are done so to improve the effectiveness of the vaccine. Adjuvants like aluminum (one of the most common) are a component of vaccines that potentates the immune response to an antigen. The adjuvant is basically used to invoke the desired immune response.
Aluminum has been added to vaccines for approximately 90 years
, and since then, a lot of controversy, especially in recent years, has emerged regarding their safety and effectiveness.
This controversy comes as a result of a number of recent studies (some of which are presented in this article) outlining clear concerns over the use of aluminum in this manner, as well as the fact that over the past few years, billions of dollars have been paid to families with vaccine injured children.
There are a number of reasons why more
parents are choosing not to vaccinate their children
.
This is quite concerning, given the fact that recommended immunization rates have more than doubled in the past few decades. In some developed countries, by the time a child is 4 to 6 years old, they will have received a total of
126 antigenic compounds
, along with high amounts of aluminum adjuvants through routine vaccinations.
Here are some eye opening reasons why so many people are starting to question the safety of administering vaccines that contain aluminum.
No Safety Assessments (Toxicity Studies) For Vaccine Ingredients
Again, aluminum has been added to vaccines for approximately 90 years, and one disturbing fact that many people still don't know is that the
Food and Drug Administration (FDA) and vaccine manufacturers themselves have not conducted or included appropriate toxicity studies/testing proving the safety of aluminum, or any other ingredients
, for that matter. These ingredients have been put into vaccines based on the assumption that they are safe. Yes, you read that correctly. It's kind of disturbing, isn't it?
So because vaccines have been viewed as non-toxic substances, the FDA and vaccine manufactures have not conducted appropriate toxicity studies to prove the safety of vaccine ingredients - more specifically, aluminum. (
source
)
I have a document from 2002 from the US Food and Drug Administration (FDA)...discussing the assessment of vaccine ingredients...and testing specifically in animal models...Back then, the FDA states that the routine toxicity studies in animals with vaccine ingredients have not been conducted because it was assumed that these ingredients are safe, when I read this I was kind of pulling my hairs out [thinking] 'So, this is your indisputable evidence of safety?' - Dr. Lucija Tomlijenovic, PhD., a post-doctoral fellow at the University of British Columbia where she works in neurosciences and the Department of Medicine. (source)
She also has documents which reveal that vaccine manufacturers, pharmaceutical companies, and health authorities have known about multiple dangers associated with vaccines but chose to withhold them from the public. They show that health authorities and vaccine manufacturers made "continuous efforts to withhold critical data on severe adverse reactions and contraindications to vaccinations to both parents and health practitioners in order to reach overall vaccination rates, which they deemed were necessary for 'herd immunity.' (
source
)
If we take a look at the FDA's website/guidelines, it's not like this is a secret. The statement above (from Lucija) comes from their 2002 guidelines, which is a fairly recent document, but more than 10 years later, despite all of the studies demonstrating clear cause for concern, not much has changed.
Until recently, few licensed vaccines have been tested for developmental toxicity in animals prior to their use in humans.
(
source
)
Despite their long use as active agents of medicines and fungicides, the safety levels of these substances have never been determined, either for animals or for adult humans—much less for fetuses, newborns, infants, and children. -
Jose G. Dores, Professor at the University of Brasillia's department of nutritional sciences. (
source
)
Aluminum Is An Experimentally Demonstrated Neurotoxin
A growing number of studies have linked the use of aluminum adjuvants to serious autoimmune outcomes in humans. (
source
)(
source
)(
source
)(
source
)
The use of this adjuvant has been connected to all kinds of diseases, from autism to brain disease to Alzheimer's and much more.
Experimental research ... clearly shows that aluminum adjuvants have a potential to induce serious immunological disorders in humans - Dr. Lucija Tomlijenovic (source)
There are numerous studies which have examined aluminum's potential to induce toxic effects, and this is clearly established in medical literature, and has been for a long time. (
source
)
If significant aluminum load exceeds the body's capacity to get rid of it, it is deposited into various tissues that include bone, brain, liver, heart, spleen, and muscle. Aluminum is found in cigarettes, cosmetics, food, medicines (aspirin), and much much more. It's in our environment, and we are surrounded by it. This is concerning, because aluminum was not really around until the industrial revolution. Today, it shows up in so many products. And we know, from the work of
Richard Flarend
, that aluminum is commonly absorbed into the body, into areas it shouldn't be, and has been found in various urine samples from multiple studies examining this topic... and that's not just for aluminum in vaccines.
We increasingly have this compound that was not part of any biochemical process on Earth, that can now only go and do havoc, which is exactly what it does. It causes all kinds of unusual biochemical reactions. - Dr. Chris Shaw, a Neuroscientist and professor at the University of British Columbia
Here is a great video by
Dr. Christopher Exley
, Professor in Bioinorganic Chemistry at Keele University and Honorary Professor at UHI Millennium Institute. He is known as one of the world's leading experts on aluminum toxicity.
The Body Reacts Differently To Aluminum Adjuvants In Vaccines Than To Aluminum Absorbed Into The Body From Food, Water, Medicine, etc...
Just imagine, you have a higher than normal body burden of aluminum. You are potentially accumulating it in certain areas in the body. You then receive multiple vaccinations, all of which contain some aluminum. In those multiple vaccinations, aluminum is acting as adjuvant and antigen, it sets off cascades of potential responses which I believe potentially can then cascade around the body, setting off potentially other stores of aluminum, whether they be in the brain, or the bone, the connective tissues, the places where we might expect to find high or raised levels of aluminum. Could this type of cascade effect explain why an aluminum adjuvant could then in some individuals only, produce such adverse effects? ... Many of the adverse affects that you see in people who have suffered following vaccination are very similar to the known effects of aluminum intoxication.Dr. Christoper Exley (source)
One of the most common arguments to support the administration of aluminum into vaccines is the fact that a person usually accumulates more aluminum in their body each day from food alone, but what is not often considered is that your body has a different method of flushing it out of your system. They body is very good at doing this, usually through the kidneys, as illustrated by the video above.
But when you inject aluminum, it goes into a different compartment of your body. It doesn't come into the same mechanism of excretion, and that's the whole point of adjuvants, they are meant to stick around and allow that antigen to be presented over and over again. It can't be excreted because it must provide that prolonged exposure of the antigen to your immune system. This is why they put it into vaccines in the first place. Something to think about.
Another great video here, a clip of Dr. Chris Shaw, a Neuroscientist and professor at the University of British Columbia, explaining the dangers of putting aluminum into vaccines as an adjuvant.
The article
HERE
explores in depth (heavily sourced) why so many parents are choosing not to vaccinate their children.
It's important to present this information because these parents are often criticized and misunderstood.