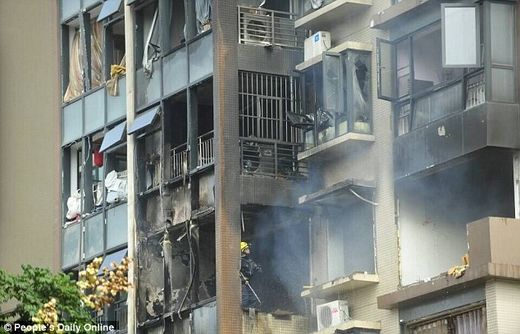 A powerful explosion ripped through a residential building in Chengdu, south-western China, before setting the homes inside ablaze.
Police are currently still investigating the explosion on September 20, but gas leak is the suspected cause, reported
People's Daily Online
.
Six people, including pedestrians, were injured during the explosion but no deaths have been reported.
Around 1.40pm,
a loud explosion rippled through the city centre residential area
.
Large areas of Jiefang Road First Section, where the building was located, was covered in shattered glass.
Shortly after, the building became engulfed in flames.
Hu Jianhua, a resident who lives in the apartments around 100 feet across the road, reported that she initially thought the explosion was an earthquake.
She said: 'I was taking a siesta when
a loud bang
made me jump out of the bed.'
Video footage, captured by a passing pedestrian after the explosion, showed heavy smoke bellowing from the windows of the fourth and fifth floor.
Enormous flames licked the floors above where there were still people trapped.
Windows of several floors around the explosion site had also shattered.
Pedestrian reported that even the buildings across the road had their windows shatter as a result of the shockwaves.
Three fire trucks were dispatched to the scene and the fire was controlled within the hour.
Ambulances were placed on standby in case of any injuries.
Photographs of the scene after the fire was extinguished showed that part of the building had been taken out.
The face of the building is covered in heavy black soot.
Initial reports indicate that six people, including pedestrians, were injured in the explosion. They were taken to hospital for treatment.
No deaths have been reported.
The cause of the explosion is still under investigation.