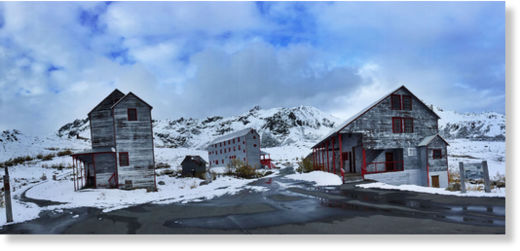 The snow line crept down to about 3,000 feet last week, as heavy rains in the Valley made for wintry conditions in the mountains.
Hikers and berry pickers have been flocking to Hatcher Pass to check out the
early-season snowfall, which dumped a couple inches at the Independence Mine State Historical Park
. Although the area is still a ways off from being skiable, the park access road is now closed. However, the parking lot below the park is open year-round, and hikers need only walk about a half-mile to access the park, which contains mine ruins and abandoned out-buildings that remain from the 20th century gold mining operations.
Gold was discovered in the Talkeetna Mountains in the Willow Creek Valley by Robert Hatcher in 1906, and soon after the Independence Mine as established on Granite Mountain. At its peak, the mine employed 204 men, with gold claims covering 1,350 acres. There were 27 structures on the site, and in 1941 the mine produced 34,416 ounces of gold.
Although the park visitor center is closed for the season, visitors may still tour the area on foot.
Additionally, the Willow-Fishook Road leading over Hatcher Pass has also been closed for the season. That road closes each year after the first snowfall. In the winter, the Hatcher Pass area is a popular skiing, snowmachining and snowboarding destination.