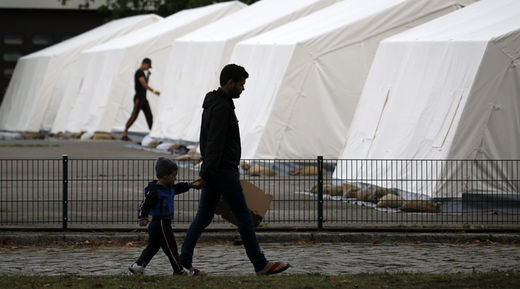 Bavaria's Interior Ministry has confirmed media reports that
radical Islamists are trying to recruit young male asylum seekers
arriving in the country unaccompanied. Up to 800,000 asylum seekers are set to be taken in by Germany by the end of the year.
"Salafists are trying to talk with unaccompanied youths who have come to Germany without their families and who are in particular need of support and connections," a spokesperson from the Bavarian internal security service (LfV) told
Süddeutsche Zeitung
.
This has been reportedly happening not only at refugee camps, but also at Munich Central Station, where tens of thousands of refugees have arrived over the past week alone
.
"
The Salafists are trying to use the desperate situation that refugees find themselves in for their own purposes
," the spokesperson added.
Salafism is an ultra-conservative movement within Sunni Islam, said to be the fastest-growing Islamist movement in Europe. It's often described as being synonymous with Wahhabism.
Salafist preacher, who is well-known across the country,
recently called on Facebook for his followers to reach refugees and win them to their movement
,
Süddeutsche Zeitung
reported. He even reportedly gave a list of concrete ways for approaching asylum seekers. German intelligence services have reportedly drawn a link between Germany's Salafist movement and jihadists who are radicalized before traveling to Syria to fight for Islamic State (IS, formerly ISIS).

Comment: Spoken like a true intelligence asset.


On Friday, the Danish Security and Intelligence Service (PET) has also warned that some of the refugees arriving in Denmark may hold extremist views, noting that the latest influx of asylum seekers could even provoke violence.
"PET is aware that among the refugees from Syria/Iraq
could be individuals who sympathize with militant Islam
and could act on the calls of militant Islamic propaganda to carry out attacks against counties participating in the international coalition against IS, including Denmark," the statement published in
Berlingske
newspaper read.
PET said the refugees could also become the target of attacks, however.
"In our neighboring countries, we have seen examples of attacks and threats of violence against refugees, immigrants or institutions related to them, committed by people opposed to the current influx of refugees. PET is aware that such a development could also occur among people with politically extreme views in Denmark," the agency wrapped up.