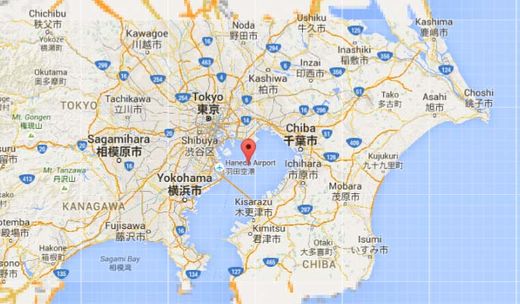 A moderate earthquake hit Tokyo early today (September 12, 2015), waking residents and shaking buildings in the Japanese capital, but there was no immediate report of any damage.
At least 11 people were injured in the capital in connection with the jolt, "but no one was seriously injured," said an official of the Tokyo Fire Department.
The 5.4-magnitude quake, with its epicentre located in Tokyo Bay, struck at 5:49 am (2049 GMT), according to the US Geological Survey.
The Japan Meteorological Agency said no tsunami warning had been issued, and that the quake was 70 kilometres (43 miles) deep.
But the agency warned sizable aftershocks could strike in Tokyo at least in a few days, while calling on residents to stay vigilant against possible landslides in the wake of heavy rain that hit the region earlier this week.
The earthquake came as authorities were grappling with the aftermath of massive flooding that killed at least three people, as thousands of rescuers searched for almost two dozen still missing in disaster-struck Joso city, which lies about 60 kilometres (37 miles) outside Tokyo.
Residents said the quake was not strong enough to knock many things from shelves, while at least five people were temporarily trapped in elevators, Japan's public broadcaster
NHK
said.
It also temporarily stopped Tokyo subways and trains, but service was quickly resumed.
The tremor did not cause any damage to the region's nuclear facilities, according to the government, and did not affect the areas that host the crippled Fukushima Daiichi nuclear plant, which went through meltdowns after a 9.0-magnitude quake and tsunami disaster in 2011.
It served as a reminder that a huge earthquake could strike the Japanese capital — which has a population of about 13 million people — at any time.
Experts have long warned Japan to stay vigilant for the next "Big One", and a powerful 7.8-magnitude earthquake struck off the coast in May.
Residents and officials of Tokyo and the rest of the nation routinely hold emergency drills, with the government stepping up its disaster response in the wake of the 2011 devastation.
AFP