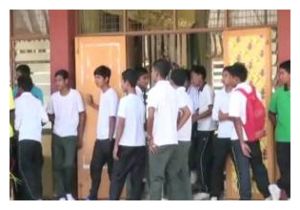 Pokok Sena: The learning session at a secondary school in
Pokok Sena
here was interrupted today when about 30 girls were
hit by a bout of hysteria.
It was a normal day for students at the school and the students were poring over their text books in their respective classes, before the hysteria broke out at approximately 1pm, Wednesday.
The incident involved Form Two, Three and Four students who were studying in the second and third floor of the school's building.
It was reported that the incident started on the top floor involving a Form Four student who claimed to have
seen a phantom
before a several other students on the lower floor were attacked by hysteria.
The incident caused the school to stop the learning session earlier than scheduled to help the students recover.
Some members from the Parent-Teacher Association (PIBG) struggled to calm the situation when more students were possessed. According to PIBG chairman Yusof Ishak, the students were taken to the school's
surau
for rehabilitation through Yassin recitals before they were recovered and taken to their respective homes.