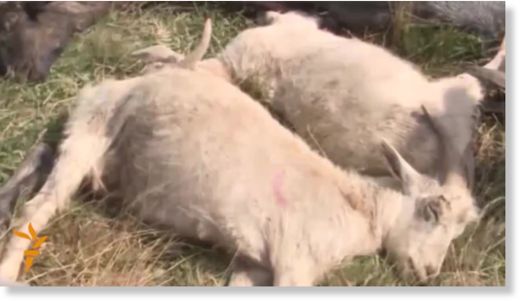 Kazakh authorities are unable to explain the sudden death of around 1,000 sheep in a single district.
Comment:
See also these other recent reports of mysterious mass animal deaths in Kazakhstan:
Death toll of rare saiga antelope reaches 85,000 in Kazakhstan
More mass animal deaths in Kazakhstan: 70 rare dalmatian pelicans found dead in country's west
Over 1 thousand dead seagulls discovered in Kazakhstan sector of Caspian Sea
If these deaths are being caused by viruses, then perhaps the following extract from the book
Earth Changes and the Human-Cosmic Connection (The Secret History of the World)
by Pierre Lescaudron, may be of some relevance here:
Space-bound bio-hazard

Fred Hoyle and Chandra Wickramasinghe have shown how viruses can be spread in the Earth's atmosphere by dust in the debris stream of comets. [313] When Earth passes through this stream, the dust and viruses enter the upper parts of our atmosphere, [314] where they can remain suspended for years until gravity finally pulls them down. [315]

Microbes can also be brought by meteorites directly to Earth's surface. That's the conclusion of the same Professor Chandra Wickramasinghe, who published a paper showing the presence of fused fossilized microorganisms in a meteorite that recently hit the ground. [316] Wickramasinghe conducted extensive tests that ruled out any possibility of terrestrial contamination. A cosmic origin for some microbes may explain why so many new viruses emerge in Asia. The Earth's atmosphere is thinnest at the Himalayas

and its surrounding region

, [317] therefore 'drop-downs' should take less time there. It might also explain why new strains of viruses usually affect birds first, as we see with the numerous avian flus. [318] During their drop-down, microbes are first present in the sky, where they can contaminate birds before eventually reaching the ground.[321]
In addition, there's this report to take into possible consideration -
Why the U.S. Is Building a High-Tech Bubonic Plague Lab in Kazakhstan?