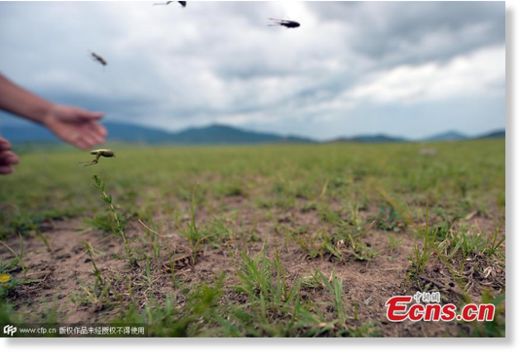 Local governments across Inner Mongolia are taking steps to try to battle
a massive locust infestation said to be taking over large parts of the region.
Both chemical and biological means are being used to fight the locusts.
Around 200-thousand hectares of farmland has come under attack since Friday.
Bateer, a local grassland management official in the city of Chifeng, says this is something they have to cope with on an annual basis.
"Last year, the population base of locusts was huge. In July when the temperatures are right, the locusts can reproduce in a very short time, creating dense swarms of the insects."
Around 73-hundred hectares of grassland has already been sprayed with pesticide since Friday.
Some 50-thousand chickens have also been put into the grassland regions of Inner Mongolia to help fight the locust infestation this year.