No evidence of an explosive device found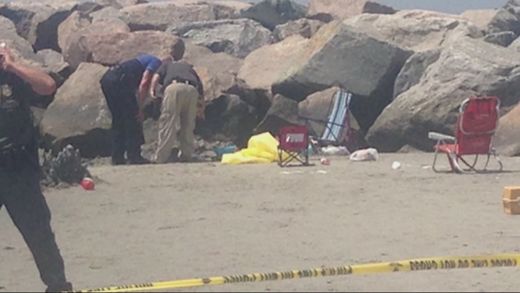 A Rhode Island beach reopened Sunday, a day after investigators concluded there was no public threat after an unexplained explosion blast knocked a beachgoer to the ground.
Salty Brine State Beach in Narragansett was open again to beachgoers, but there was no new information on the cause of the incident, state Department of Environmental Management spokeswoman Rayna Maguire said Sunday. She said the state fire marshal's office is continuing the investigation.
A witness reported hearing the loud noise and seeing the woman get knocked over on Saturday morning.
"We heard a loud explosion. We looked up and sand was flying up into the air like a volcanic eruption," said Stacey Beal, who witnessed the incident. "We saw a woman who was sitting in her chair get pushed about five feet up and land face first into the sand."
Lori Russell, of Dedham, is a nurse and was vacationing at the beach when the woman was injured. She rushed to help the woman in the moments after the incident.
"She was alert, talking," Russell said. "She was in pain. She couldn't really tell us what hurt because she was shaken very badly."
Officials said the woman is expected to recover. No other injuries were reported from the incident.
The incident occurred between high and low tide, so heavy equipment was used to dig up wet sand in order to preserve evidence.
"The investigation included physical searches, K-9 searches and numerous interviews that corroborated initial reports of a loud bang. However, no evidence indicated any type of an explosive device," said Colonel Steven G. O'Donnell of the Rhode Island State Police.
The Bureau of Alcohol, Tobacco, Firearms and Explosives was assisting local authorities with the investigation.
Rhode Island Environmental Police Acting Chief Kurt Blanchard said the cause of the boom remains under investigation.
"This could be natural, it could be man-made. At this point, it's still under investigation," said Blanchard
Officials said Salty Brine beach will reopen Sunday.