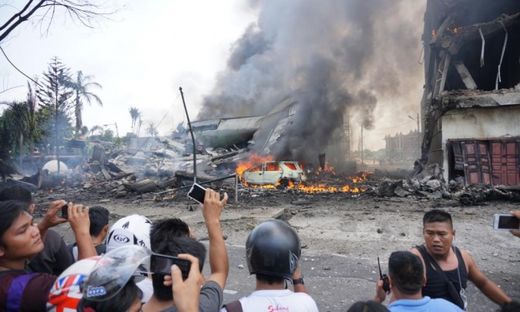 Death toll could rise, officials say, after Hercules aircraft crashed into hotel and houses in city of Medan on Sumatra island
At least 30 people have been killed after an Indonesian military transport plane crashed shortly after take-off into a city on Sumatra island, exploding in a ball of flames in a residential area.
The Hercules plane hit a hotel and houses in the northern Sumatra city of Medan on Tuesday, an official said.
"The latest information we have is that 30 have died.... The number could go up," Hisar Turnip, a spokesman for Indonesia's search and rescue agency, told Reuters.
It was not immediately clear how many of the victims were in the plane or on the ground.
The plane was on its way from an air force base in Medan to the remote Natuna islands and crashed a few minutes after takeoff.
Dramatic pictures on social media showed large crowds and emergency services gathering around the flaming wreckage, with the fuselage of the aircraft visible among thick plumes of black smoke. Buildings in the vicinity of the crash zone were also clearly damaged.
"I saw the plane from the direction of the airport and it was tilting already, then I saw smoke billowing," local resident Januar, 26, told AFP, giving only his first name.
He said the plane crashed into a newly built residential area, although it was unclear whether it was occupied yet. Police had cordoned off the area.
"A Hercules was ... transporting military logistics from Medan," military spokesman Fuad Basya told AFP.
The plane took off at 12.08pm local time (05.08 GMT) from an airforce base and crashed in the city just two minutes later, about 5km (three miles) from the base, he said.
Asked about potential casualties, Basya said: "We don't know for sure but inside there will be the plane crew, pilot, but I don't know how many."
"It crashed near a residential area and caught fire," search and rescue agency official Tatang Zainuddin told AFP.
"We have asked our search and rescue office in Medan to immediately go to the site for evacuation of any victims."
Agence France-Presse and Reuters contributed to this report.