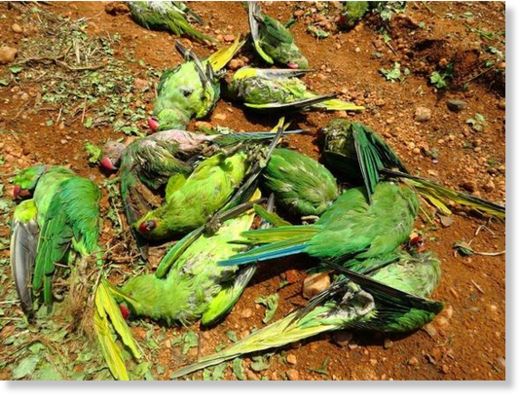 Hundreds of birds were killed in the heavy pre-monsoon rain accompanied by hail-storm that lashed in Ballari on Friday night.
For the first time such a large number of birds have been killed in heavy rain. This incident occurred near Krishnapur village, 27 km from Hagari Bommanahalli taluk in the district.
As many as thirteen species of birds, including Plum-headed Parakeet, cattle Egret, pond Heron, Grey Heron, crows, common Myna, Copper Smith Barbet, Rose-ringed Parakeet, Small Pratincole among others, were found dead.
These birds, who depend on the horticulture crops in the vicinity, roost on the coconut trees in the surrounding.
According to Vijaykumar Itagi, a bird watcher from Hagari Bommanahalli, who rushed to the spot on getting the information,
as many as 1,570 birds were found dead within a 200 metre radius.
"I found that those birds which roosted on coconut trees were killed after being hit by hail stones.
No such casualty has occurred near the Peepal tree, which provided adequate protection and shelter to the birds compared to coconut trees. I have also noticed that Rose-ringed Parakeet had died in more number", he told
The Hindu.
He also informed that some school children gave first-aid to some birds which sustained injuries.
Mr. Itagi said that he would also be going round the area and along the back waters of Tungabhadra River to find out whether there were more number of bird causalities.
Samad Kottur, President for Society for Wildlife and Nature (SWaN) and a ornithologist, talking to The Hindu underlined the need for the officials of forest department to ascertain the exact reason for the death of large number of birds and initiate all precautionary measures to prevent such casualties in future.