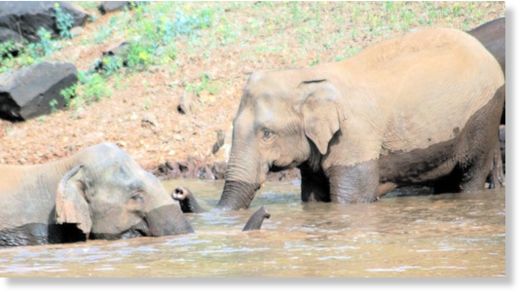 A body of a 35-year-old man was recovered from Tarkuan jungles in Manikui under Chandil police station area in the adjoining Seraikela-Kharsawan district.
The deceased, identified Ajay Kujur, had been trampled to death by a wild elephant at Tarkuan jungle, which is a natural habitat of the pachyderms.
According to sources, Ajay who was a resident of adjoining Chhotakha village in Chandil had gone into the jungle for procuring 'datoons' along with two other villagers last morning, but did not return.
Rampaging herds of tuskers in the villages of West Singhbhum and Seraikela Kharsawan district are forcing innocent tribal to spend sleepless nights.
A forest official said: "We paid the victim's family Rs 25,000 today as compensation, and will pay the remaining Rs 2.25 lakh within a week," said the range officer.
In an area that boasts of a forest cover of 30 percent, the human-animal conflict is major concern of the people.
In past one month cases of elephant's regularly damaging standing crops and attacking villagers have shot up.
Under Jhinkpani block areas like Choya, Beteya and Kudapi are worst affected. Just recently herds of elephants entered village under Manjahri police station and destroyed crops.
In many villages, people are forced to spend their nights on trees in fear. Some even light fires and drumming up traditional instruments to keep tuskers at bay.
People are in state of havoc due to such menace. Sometimes villagers migrate to safer places for a week or more to avoid the sudden night-time attacks of the wild elephant herds.
"We are forced to spend sleepless nights. Our lives are at risk due to rampaging elephants. Elephants regularly venture into villages, destroy houses, damage standing crops and even trample people to death. We are forced to work like a 'night guard' to save our lives and crops" said Ramesh Munda of Jhinkpani.
He said that rampaging elephants are a cause of concern. Some measures have been adopted and there is need to do more to protect the people.
He added that when the villagers force them to migrate to Manjhari area they enter Choya area under Jhinkpani.
There are two groups of tuckers active in the area and one of which also consists of baby elephants.
Meanwhile the officials of the forest department said the department is installing solar electric to safeguard villagers.
When the animals would come into contact with the fence, they would experience mild electric shock, which would force them to leave the place immediately. The fencing will not lead to death of animals.