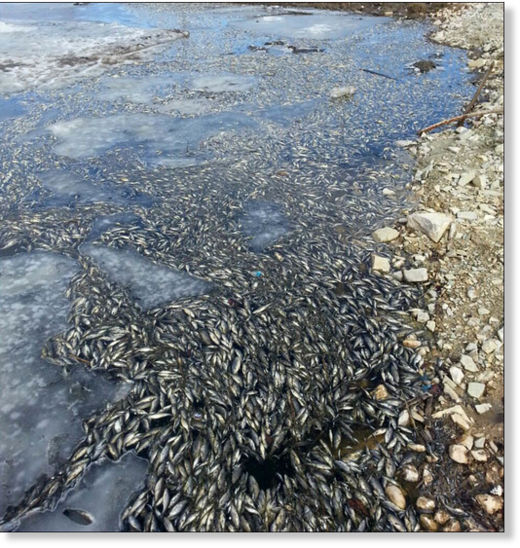 Shocked locals have posted pictures of the dead fish amid suspicions they were killed by explosions as officials melted winter ice to prevent flooding.
The disturbing scene was at Lake Khatyng, in the Sakha Republic, the coldest region in Russia. The fish - believed to be carp and grouper - were seen dead en mass on 14 May.
Locals in Tulagino village blamed the dynamiting of local rivers to prevent ice causing dams on rivers, so leading to flooding of villages. But representatives of the Ministry of Emergencies in the republic, also known as Yakutia, denied being responsible for the dead fish.
A spokesperson said: 'On 13 May we did blow up the ice, but the work was near the village of Namtsy, almost 100 km from Tulagino. Even if we assume that fish died because of the explosion, it is unlikely that they were carried such a distance.'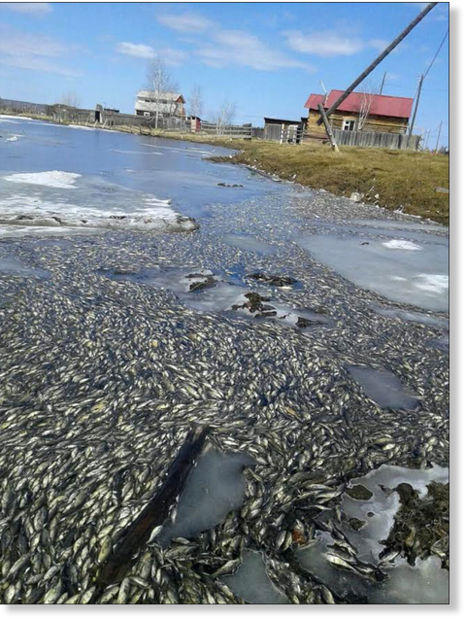 The Emergencies Ministry even expressed doubts about the authenticity of the pictures.
Village official Anna Neustroyeva said: 'The photos are real. Yesterday, on the surface of the lake, there were a large number of dead fish.'
She claimed the likely cause was not explosions but 'a lack of oxygen' under the winter ice, with temperatures having fallen to minus 50C during the winter.

While fish survive under annual harsh conditions, it seems that this year the frost was so strong that there were no breaks in the ice, depriving them of oxygen. Head of the regional nature protection inspectorate Kirill Alchin also supported this theory.
None of the dead fish showed signs physical damage which can occur among those close to river explosions. But experts say that river explosions mainly cause internal damage to the fish.
Others have demanded tests for poisoning in the lake. The water need to be checked,' said one. 'There can be pollution. They need to check the water.'