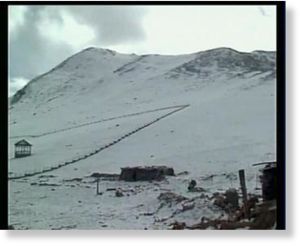 While the rest of India continued to simmer under intense heat wave, higher reaches of Rajouri district in Jammu and Kashmir received fresh snowfall. It has been snowing in Rajouri intermittently since Sunday (May 24) causing the mercury to drop considerably.
People have once again pulled out their woolens. Though
snowfall in Rajouri is unusual for this time of the year
, no one seems to be complaining. Instead people from nearby areas of Shopian and Poonch are thronging the place to enjoy the weather.
The sudden change in weather has reportedly been caused by a prevailing western disturbance over the region. As a result of which, the lower reaches of Rajouri received snowfall. Heat wave in the rest of India has so far claimed many lives.