An accident Tuesday took two lives on an oil platform in the Campeche Sound in the Gulf of Mexico, the second time in five weeks that Mexico's offshore oil industry has been rocked by a lethal accident.
The state oil giant, Petroleos Mexicanos, or Pemex, said emergency boats evacuated 101 workers from the Troll Solution rig after "a failure of one of its legs" caused a partial collapse.
By midafternoon, photos posted to Twitter showed the rig listing heavily, partially underwater and leaving an oil slick. Pemex said it was not in danger of sinking. The magnitude of the oil leak was not clear.
Pemex did not give nationalities for the two fatalities but said both were employees of the rig's owner, Typhoon Offshore, a subsidiary of Mexico's Grupo Salinas, a conglomerate with interests in banking, retail, media and telecommunications. The subsidiary owns only the single rig, built in 2010 in China.
In its own statement, Typhoon said 10 employees had been treated for injuries.
The incident raised new questions about the safety of Mexico's offshore drilling industry
at a time that Pemex is seeking international investment for the first time since the oil industry was nationalized in 1938.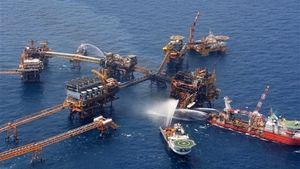 A fire April 1 aboard another rig in the Campeche Sound, which is at the southern end of the Gulf of Mexico and west of the Yucatan Peninsula, killed four workers and injured dozens of others.
Pemex has yet to say what caused the fire aboard the Abkatun A rig and provided no explanation of what precipitated the collapse of a leg under the Troll Solution rig Tuesday.
"From the standpoint of oversight and safety, Mexico is not ready for Round One because the safety institutions are not ready," said George Baker, an industry analyst in Houston, referring to the first bidding round for international investments, which begins in June for shallow water, heavy crude fields and onshore fields. Deepwater auctions will occur through 2018.
Under a constitutional reform approved in December 2013 that opened the oil sector to foreign investment, Mexico created the Agency for Industrial Safety, Energy and Environmental Protection to oversee the oil industry. But the agency only began work two months ago and has yet to train inspectors to ensure safe operation of oil rigs, according to Baker, who publishes
Mexico Energy Intelligence
, a newsletter that follows the oil and gas industry.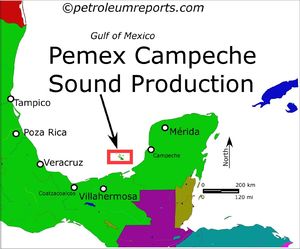 Pemex chief Emilio Lozoya Austin told a forum at Rice University in Houston on April 21 that Mexico expects to pull in $23 billion in deepwater investment by 2018.
"This is the deepest transformation that the company has had since its inception in 1938," Lozoya said, according to a video of his talk on the website of the university's Baker Institute for Public Policy.
Mexico's state oil industry is no stranger to fatal accidents.
A mysterious explosion wracked the headquarters of Pemex in Mexico City in early 2013, killing 37 people and destroying or damaging four floors of the high-rise complex. Authorities later said it was caused by trapped underground natural gas.
Five months earlier, a fire at a Pemex gas facility near the northern city of Reynosa killed 30 people.
About 200 people were killed in 1992 when underground gas explosions jolted Guadalajara, Mexico's second largest city. Pemex was found partly to blame for that tragedy.
In 1984, more than 300 people died when a Pemex storage facility for natural gas blew up on the outskirts of Mexico City. More than 100,000 people were evacuated as subsequent explosions shook the area of Tlalnepantla, northwest of the capital.
Via McClatchy News