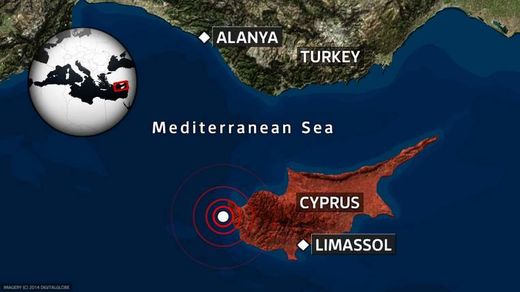 Cyprus has been hit by a 5.6-magnitude earthquake, according to the US Geological Survey.
The earthquake struck just off the Mediterranean island's west coast, about four miles from the village of Peyia.
It was mainly felt in the western Paphos region, but also in the capital Nicosia at 11.25am local time.
Paphos district officer Yiannakis Mallourides reported no major damage to structures or injuries, but said authorities are monitoring the situation.
@michelleuk87 wrote on Twitter: "So weird feeling the #earthquake in #Cyprus this morning whilst on my sunbed. #nicosia"
There were no immediate reports of casualties or damage across the rest of the island.
Cyprus state radio reported that the tremor was a magnitude 5.3, at a shallow depth of 3km west of Kissonerga, a village popular with European and British retirees.
Sarah Ktisti, a journalist living in the region, told the Reuters news agency: "The chair I was sitting on started moving and my sister came running down the stairs to tell me the wardrobes and doors were rattling."
The island's highest-recorded earthquake in recent years was a 6.3-magnitude quake in 1996 which caused some damage, but no casualties.