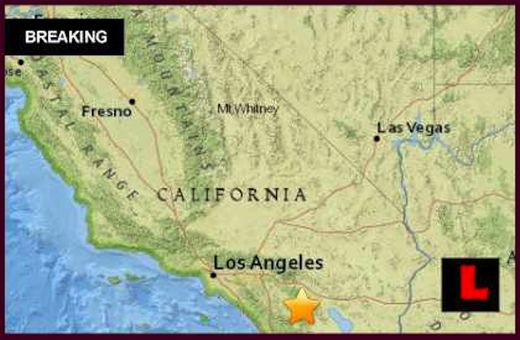 Another Los Angeles area earthquake today 2015 has struck Southern California. This time the quake was centered further south, closer to Anza and La Quinta. Damage assessment is pending. The quake follows another temblor that struck Granada Hills on Saturday.
USGS indicates to news that a Los Angeles area earthquake today April 5, 2015 struck just after 5:56 am PST. The quake was shallow. Reps tell news that the quake started just 8.9 km below ground level. As a result the quake could be felt across the vicinity. The quake registered a 2.6 magnitude. It was seven miles east of Anza, twenty miles south of La Quinta, it was twenty-one miles southwest of Palm Dester and 21 miles south of Rancho Mirage.
Several quakes have been hitting the region since 2012. In April that year one quake was centered near Indio. It was twelve miles north of Coachella, and thirteen miles east of Thousand Palms. It was reportedly twenty miles from Twenty-nine Palms and ninety-four miles from San Diego, news analysts note.
Then in June a 3.5 magnitude earthquake struck centered eight miles east of Coachella. The quake was ten miles outside of Indio and Mecca. The quake was less then twenty-eight miles east of Palm Springs. The quake was also ninety-one miles from San Diego, officials remind news.