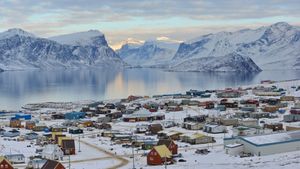 Emergency supplies and generators on way to hamlet of Pangnirtung that is mostly in the dark
The Northwest Territories Power Corporation is airlifting two mobile generators to Pangnirtung, Nunavut, after an overnight fire at the local power plant knocked out power to the entire community of about 1,400.
"Loss of power in the community, in the North, in the winter time is a very serious situation," said Ed Zebedee, the territory's director of protection services in Iqaluit. The community relies entirely on the power plant that generates electricity from diesel fuel.
Environment Canada has called for a high of -15 C today with a low of -19 C expected tonight.
An emergency warming shelter has been opened at Attagoyuk Ilisavik School, where there is backup power. A few other buildings in the community also have backup power, but the rest are cold and dark.
"We opened the warming shelters very early this morning and people are starting to go there," Zebedee said. "We talked to the hamlet and they are getting food from the local stores so they can start feeding people."
The Nunavut government is now working towards getting charter flights to the community to bring people with high-risk health issues, such as those who may be on oxygen generators, to Iqaluit.
The government is also working with the public health agency in Ottawa to get cots, blankets and pillows, which will be flown into Pangnirtung in case residents have to sleep in the school.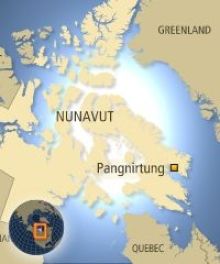 The power corporation also said in a news release that two generators will be flown in from Yellowknife and Fort Simpson, N.W.T.
"We understand the impacts of being without power in Canada's North and are pleased to be able to assist our neighbouring utility," said Emanuel DaRosa, president and CEO of the power corporation. "It's the least we can do in this crisis situation."
Phone services degrading
Zebedee said he spoke with NorthwesTel this morning and its cellphone system "looks like it has completely failed right now."
A media advisory from NorthwesTel said long distance and data services in Pangnirtung are expected to continue to degrade as backup batteries deplete, but its central office in the community currently has a stable power supply, which should allow local calling to continue to function.
"We have a bunch of satellite phones in the community with various government agencies and then we also have a couple with the hamlet," Zebedee said. "We have a response kit ready to go in with hand-held radios so that people can communicate between hamlet staff, bylaw officers, water truck people."
Members of the Canadian Rangers met this morning to discuss the situation and are going door-to-door to check on households, as well as warning people about potential dangers in their homes, such as carbon monoxide poisoning from using camping stoves or outdoor heating appliances indoors.
Fire began early in morning
The fire at the power plant began at about 1:30 a.m. ET and crews were able to extinguish it.
Ezra Arnakaq, who lives in the community, said there was a lot of damage to the power plant.
"One of the exhaust vents has fallen in part way and there is extensive damage in there," he said.
Natalie Chafe-Yuan, a spokesperson with the Qulliq Energy Corp., said maintenance staff are in the community assessing the damage. More people are on their way to help.
There is an emergency generator at the site that's separate from the power plant. Crews are working to establish partial power.
Residents of Pangnirtung are being asked to run taps regularly to ensure their pipes don't freeze, but to otherwise conserve water.