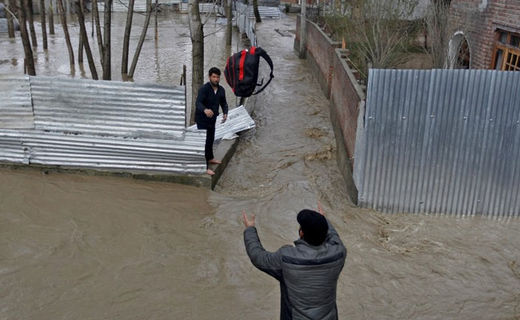 SRINAGAR: In eastern India, the Bihar state government said at least 20 people were killed when
heavy downpours and lightning
struck parts of the state late Monday. Strong winds uprooted trees and
many houses collapsed in the state capital, Patna, and in Purnia and Katihar districts
, it said in a statement.
In the
Himalayan region of Kashmir, rescuers recovered 16 bodies
Tuesday from two houses hit by rain-triggered landslides, following its second major floods in six months. Elsewhere in India, fierce rain and lightning toppled houses and trees in
Bihar state, killing 20 others.
Police and volunteers worked around the clock to clear the debris in
Laden village in Kashmir's Budgam district,
police Superintendent Fayaz Ahmed said.
Floodwaters were receding in Kashmir, but residents of the main city of Srinagar were bracing for more trouble after predictions of additional rain in the next few days. Rains over the weekend were the worst since the region was hit by devastating floods last September that destroyed thousands of homes and $17 billion worth of infrastructure.
Many rivers in Kashmir were above their danger levels
. Hundreds of people were staying in relief camps after the state government ordered them to leave low-lying areas.
Many faulted the government for failing to anticipate last year's flooding and taking too long to respond. Prime Minister Narendra Modi dispatched a special team on Monday to assess the needs from the current floods and get relief efforts moving.
On the Pakistani side of the border, which was hit worse by last year's flooding, authorities said the situation was improving, although the Neelum and Jhelum Rivers were perilously close to overflowing their banks.
"Both the rivers are still swollen," said Akram Sohail, an official with the government disaster management department in the Pakistan-controlled portion of Kashmir.