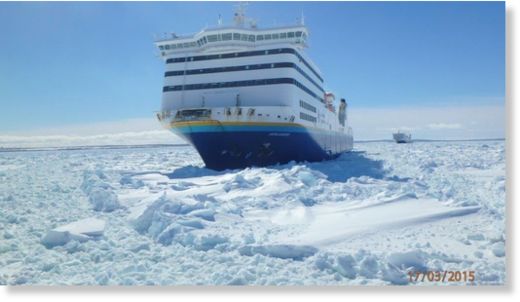 While the all-time snowfall record in Boston may have received most of the media attention in the U.S., Canada has had its fair share of unusually severe winter weather this season as well.
Nova Scotia, Prince Edward Island and Newfoundland have been slammed by back-to-back-to-back-to-back (you get the point) severe winter storms, producing a broad area of sea ice cover and mountainous snowbanks along the streets of cities such as Charlottetown and Saint John.
A Marine Atlantic passenger ferry with 190 people aboard was stuck in pack ice off Cape Breton, Nova Scotia, on Tuesday, with Canadian Coast Guard ships trying to free the vessel.
According to the Canadian Press, the
MV Highlanders
ran into heavy ice on Monday night, after leaving North Sydney, Nova Scotia, for Port aux Basques, Newfoundland.
#CCG Louis S St-Laurent assisting MV Highlanders and Blue Puttees in Cabot Strait. Slow progress in very thick #ice. pic.twitter.com/Do2HeFWiVW

— DFO_NL (@DFO_NL) March 17, 2015
In a statement to passengers, Marine Atlantic warned of travel delays.
"Marine Atlantic advises customers that due to severe ice conditions in the Cabot Strait, customers may experience an extended crossing time causing a potential impact on our schedule. Over the next 48 hours we ask passengers to please keep in contact for further updates," the ferry company said.
Wow ice as far as you see today. Take care @MAferries, keep up great work Captains! pic.twitter.com/l6178MfXU3

— Tara Laing (@T_Laing) March 17, 2015
The ice is visible from space, with a NASA satellite showing a solid ice cover surrounding portions of the Canadian Maritimes. While sea ice is not unusual in this region for this time of the year,
the extent and thickness of the ice is noteworthy.
The ice was formed in part from a series of winter storms that have relentlessly struck the Maritimes into March.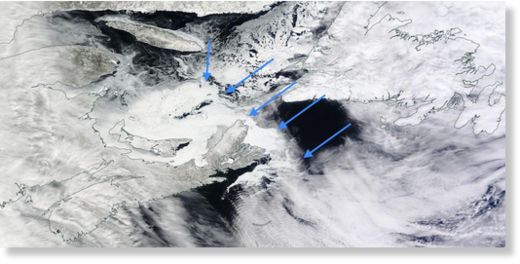 As meteorologist Bob Henson
reports for Weather Underground,
the same storm that pushed Boston over the top to its snowiest winter on record this weekend dumped nearly two feet of snow in Charlottetown.
The city's seasonal total snowfall this winter is 182 inches, or about 15 feet, which is about twice that seen in Boston. The city's previous record, Henson writes, was 177.7 inches, set just last year.

St. John in New Brunswick saw 170 inches of snow pile up so far this winter, beating the all-time seasonal total of 167 inches set in 1962-63. More snow may still fall in these areas this week and into mid-March, as the cold and stormy weather pattern across the East continues.
In Boston, a comparatively paltry 108.6 inches has fallen so far this winter.