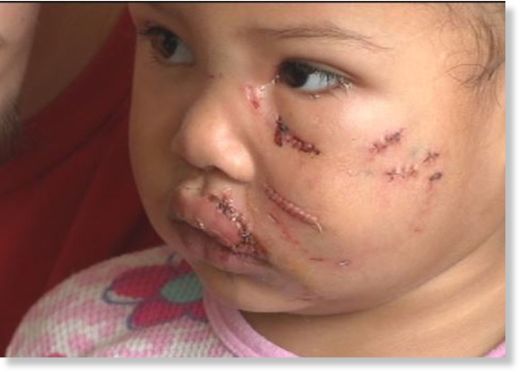 Police say a family lied about which dog bit their two-year-old in order to protect their family pet.
Tyler Smith, of Dayton, said his daughter was building a snowman in the backyard of her grandparent's home in the 1300 block of Woodlawn Avenue when she was attacked and bitten on the face.
The dog "came charging, barking and growling" at Smith and his daughter, Monroe, he told this news outlet Monday.
"It got closer, and I grabbed (my daughter). It was growling so I took off running, and it jumped up and grabbed her face," Smith said.
Smith said he grabbed the dog by the neck and choked it until it let go. He drove his daughter to Atrium Medical Center, and she was transferred by ambulance to Dayton Children's Hospital, where she received more than 80 stitches to her face, according to Smith.
Pamela S. Willard, of Fairmount Avenue, was cited for the dog running at large incident by Middletown police. Willard denied that her dog was the one involved in the incident.
Today, police told this news outlet that the family may have devised their story in order to spare the family pet.
"We received further information last night," said Middletown Police Major Mark Hoffman
. "At this point, we believe it was the family dog, the victim's own dog bit her."
According to a police report, Kimberly Brumett-Smith told police that Tyler Smith, her son, sent her a text message telling her not to tell the truth to the police. Brumett-Smith told police it was actually her dog, which she described as a brown pit bull, that bit her granddaughter in the face at her residence.
"We will be looking at withdrawing the charges on the other dog (owner), if we can determine it was not indeed running loose," Hoffman said.
An anonymous caller told police that "several people who were present in the residence on Woodlawn had made up the story so that they would not get in trouble and that their dog will not be taken," according to the police report.
This news outlet attempted to contact someone at the Woodlawn Avenue residents, but no one answered the door. Brumett-Smith declined to comment when reached by phone.
Willard told this news outlet Monday that her dog, which she described as a Blue Heeler, was loose earlier in the day but was secured when this incident took place.
"There's another dog out there. (Police) need to find it," Willard said.
Willard was cited Feb. 2 for a dog running at large, according to Middletown Municipal Court records. Police responded to her home in the 1300 block of Fairmount Avenue for a report of a ""white dog trying to bite" a postal worker, according to police records. The report also states that a white Blue Heeler breed dog "began charging" at the officer's car.
Officers who responded to that incident warned Willard "about the same problem the previous week in reference to the white Blue Heeler getting out of the yard and acting vicious towards people walking on the sidewalk," according to the police report. Officers advised her to confine the dog.