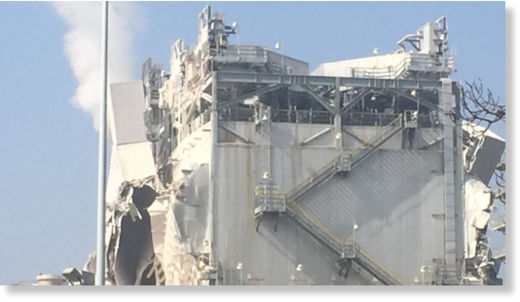 Minor injuries were reported after an explosion ripped apart structures at an oil refinery in southern Los Angeles County Wednesday morning and shook homes for miles around the blast site.
Aerial video showed smoke coming from a damaged portion of the Torrance ExxonMobil Refinery, located south of the 405 Freeway. The blast, which led to an air quality advisory due to smoke, twisted metal and sent ash raining down on vehicles parked near the sprawling 750-acre refinery property.
"I thought it was an earthquake, like someone hit the back of my car," said resident Drew Magtoto.
Another resident told NBC4 he could feel shaking from about seven miles away and noticed a large flare-up from the plant's burnoff stack. The stack flaring is a safety measure used to dissipate pressure and avoid explosions.
"All of our windows started rattling," a Redondo Beach resident told NBC4. "It rattled all the windows in our house. It was kind of crazy."
Torrance police said there were three minor injuries, and "everyone is accounted for."
In a statement, a public affairs official with the ExxonMobil Torrance Refinery said the plant "experienced an incident" at 8:50 a.m.
"Emergency procedures have been activated to address the incident, and employees are working with the appropriate agencies," according to the statement. "Our main concern is for the safety of our employees and our neighbors. We are accounting for all personnel and still evaluating the cause of the incident, or the occurrence or amount on any damages."
Torrance school officials confirmed that staff and students shelterered in place due to possible air quality issues. Tammy Khan, of the Torrance Unified School District, said parents were notified that the shelter-in-place order will remain in effect until schools are told it is safe to leave campus.
The South Coast Air Quality Management District issued a smoke advisory for any areas where residents can see or smell smoke. Torrance officials said there was no chemical release and a city-wide shelter-in-place order is not necessary, but those near the site should remain indoors.
"From my understanding, it was a significant incident," said Mayor Patrick Furey. "The most important thing to do is to shelter in place. Stay indoors, no outdoor activity, turn your air conditioners off, keep the windows closed."
NBC4 is attempting to confirm details regarding the cause of the explosion. It was not immediately clear whether the blast was related to a drill at the refinery, where about 155,000 barrels of crude oil are processed each day.
The refinery, with its signature flare stack, has been part of the South Bay landscape since the 1920s.