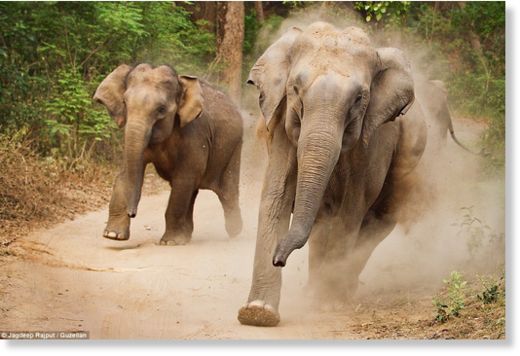 Three people were killed and another injured Friday after they were attacked by an elephant in West Bengal's Jalpaiguri district, a forest official said.
The incident happened when the tusker strayed into the Kathambari village under the under the Apalchand range of Baikunthapur forest division.
"The elephant had strayed into the village and attacked people killing three of them and injuring another. While one person was killed on the spot, two others succumbed to their injuries in a hospital," Divisional Forest Officer (Baikunthapur) P.R. Pradhan told IANS.
The victims have been identified as Rabin Orao, Surajit Katham and Benoy De Sarkar.
Forest officials later managed to push the animal back into the jungle.
Locals staged a demonstration outside the forest official office seeking compensation for the dead.
Source: Indo-Asian News Service