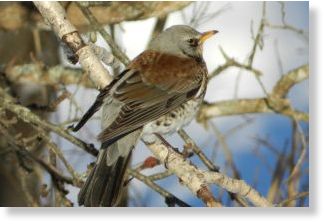 Kathleen Spicer has seen a lot of different birds in her yard over the years, but very few in North America have been visited by a Fieldfare.
The robin-like European bird was first spotted by Spicer's husband Blaine in an apple tree in their yard during a snowstorm on Jan. 31, and was still being observed there as of Monday.
"Blaine saw it out the window and said, 'I don't know what this is,' so I grabbed my camera and stood on a chair to get a picture of it," aid Mrs. Spicer. "I thought maybe it was a Varied Thrush, because it had a robin shape. But when I looked at the picture, I knew it was something else."
Although she had never seen a Fieldfare before, there was something familiar about the bird. She grabbed a guidebook she had for European birds, and there one was right on the cover.
While it can be found as close as Greenland, the Fieldfare is more common in Europe, Iceland and Central Siberia. A large thrush, it eats worms and insects while its normal range, but will eat fruit in winter when other food is not available.
There have only been five prior documented sightings of a Fieldfare in Nova Scotia, and the only other one photographed was in Granville Ferry, Annapolis County, in 1994.