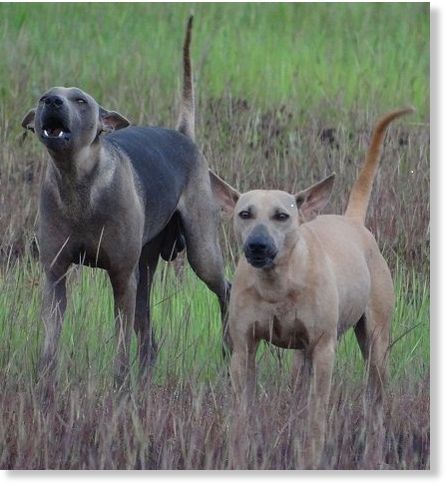 In what is becoming a serious menace, wild dogs attacked and killed a child on Saturday afternoon in Baheri tehsil
,
making him the third fatality of such an attack in almost a month. Over 10 children have also been injured in wild dog attacks in the past month
. Ironically, while the attacks are continuing, district authorities continue to quibble over jurisdiction issues.
According to reports, daily wage labourer Anis Ahmed and his 15-year-old son Mujammil, residents of Lakhanpur village of Baheri, had gone to work at a local brick kiln. After some time, Anis went to his fields. When Mujammil did not join him after a long time, Anis went out to search for him.
That was when he saw Mujammil being attacked by a pack of dogs near the brick kiln. He somehow managed to chase away the dogs by attacking them with a spade but was not able to save his son, who was declared brought dead at a hospital.
What's more, barely four hours after Mujammil was attacked, a group of dogs caught hold of 12-year-old Harish while he was playing in the fields in Jam Antarampur village, around three kilometres away from Lakhanpur
. The injured boy was saved by locals and admitted to a private hospital where he was given anti-rabies injection by the doctors.
Though the incidents of attacks have increased in the last few weeks, the district authorities have not been able to figure out which department will take action against these dogs yet.
The forest department has reiterated that stray dogs do not come under their jurisdiction and they cannot take any action against them. Forest officials said they have advised villagers to kill the dogs in case of attacks.
In the past month, three children have been killed and more than 10 children have been injured in attacks by ferocious dogs. The attacks have been reported from some 15 villages located near the Kicha and Babul rivers in Baheri tehsil.
The rising attacks have created panic among locals in the region but district administration and forest department have not yet taken any concrete steps to tackle this menace.
The forest department has been claiming that these are stray dogs which have become feral after eating animal flesh, blood and bones, which are mostly discarded from slaughterhouses. They claimed that they cannot act against the dogs as the issue does not come under their jurisdiction. "Three forest department teams in Baheri are informing the locals that they can kill stray dogs to protect themselves," said Dharam Singh, divisional forest officer (DFO), Bareilly. On being asked why the forest teams are not catching these ferocious dogs, Singh said, "Catching dogs is not a solution as they would trouble the locals wherever they will be released again."
The team of forest department, which was set up on Wednesday, has not yet sighted any dogs. "Our team stays in the area from morning to evening. They cannot stay there round the clock due to shortage of manpower in the forest department," added DFO.
On being asked what steps are being taken to tackle the problem, Pramod Kumar Yadav, circle officer, Baheri, said, "I am on leave and will join office from Monday. I will take action along with the help of the district administration."
Explaining the reason behind rising attacks by stray dogs on children, Dr Abhijit Pawde, veterinary scientist at Indian Veterinary Research Institute (IVRI) said, "Dogs are much more hungry in winters as compared to other seasons. They have started attacking children as they probably are not able to feed on their regular meat. At times in rural areas, children pelt stones at dogs when the dogs are having their food, who in turn attack them."