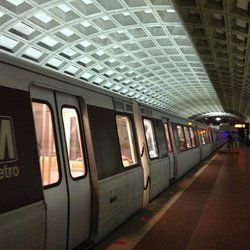 One woman is dead and dozens of other people were hospitalized, two in critical condition, after the upper level of the L'Enfant Plaza Metro station in southeast D.C. filled with smoke Monday afternoon.
One Virginia-bound Yellow Line train was in the tunnel just south of the station when the smoke was reported about 3:20 p.m., according to Metro.
"There was a woman who was in distress on that train, and I'm sorry to say she's passed away," Metro General Manager and Chief Executive Officer Richard Sarles said.
The Metropolitan Police Department will take the lead in the death investigation, Sarles said.
Officials do not yet know the cause of the fire.
"It was just very smoky in there," said passenger Fitz Carter from aboard a Metro bus waiting to be taken to a hospital. "We couldn't see anything. The visibility was poor. Right now, there's a lot of burning in my throat and my chest. Everybody got as low as they possibly could to the ground because that's where the best possibility for oxygen was."
Another passenger described how the train went dark and then filled with smoke. The passengers were advised to keep the doors closed because it was smokier outside the train.
"People could barely breathe," passenger Denzel Hatch said. "They had to evacuate us through the tunnel and walk back through the front. No electricity, no visibility, nothing. Couldn't see anything at first."
They were trapped up to 40 minutes on the smoke-filled train.
Evacuations were completed before 5 p.m., according to Metro Transit Police.
A first aid bus and an evacuation bus were at the scene. Firefighters gained access to the tunnel at one of the evacuation points at Ninth Street and Maine Avenue SE. One firefighter was taken from that location in an ambulance.
According to D.C. Fire and EMS, 84 patients were taken to hospitals. Two went to George Washington University Hospital in critical condition. More than 200 people were evaluated.
D.C. Fire and EMS set up a decontamination center for its firefighters who went into the tunnel.
The FBI is assisting Metro Transit Police in determining a cause, which is standard procedure for incidents in the capital region.
The National Transportation Safety Board is investigating, too.
Green Line service is suspended between Navy Yard and Gallery Place, and Yellow Line service is suspended between Pentagon City and Mt. Vernon Square. Green Line trains are turning back at Navy Yard and Mt. Vernon Square.
Orange, Silver and Blue line trains are bypassing the station through the lower level.