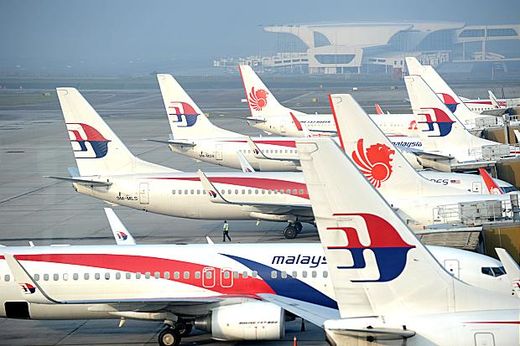 In addition to Ebola, ISIS, and Ukraine in general, some of the biggest events of 2014 have involved passenger jets. First there was the mysterious disappearance of Malaysian Airlines Flight
MH370
and its 239 passengers and crew on March 8, followed by the shoot-down of
MH17
over Ukraine on July 17, killing all 298 aboard. A week later, July 24, Air Algerie Flight
AH5017
enigmatically
crashed in Mali, burning to a crisp and killing all 116 aboard. After that, there was the plane crash in Brazil that
killed
presidential candidate Eduardo Campos and six others on 13 August.
Now, another Malaysia-connected flight has gone missing on December 28: AirAsia Flight QZ8501, with 162 aboard and presumed dead at this point. No distress signal, just an announcement that the pilots would gain altitude to navigate a storm, before disappearing completely from radar.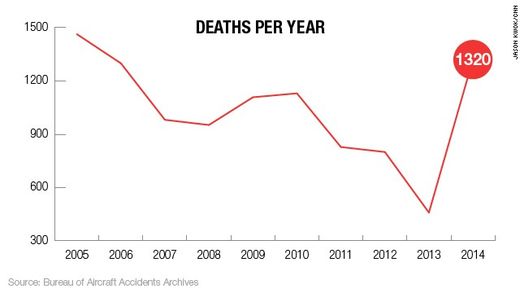 Yesterday, the Indonesian vice president, Jusuf Kalla, told the public they are
not ruling out
that the plane crashed. Now Indonesia's "top rescue officials" are saying they think the plane is most likely
at the bottom of the Java Sea
:
"(Because) the coordinate that was given to us and the evolution from the calculation point of the flight track is at sea, our early conjecture is that the plane is at the bottom of the sea," Bambang Sulistyo, head of Indonesia's national search and rescue agency, told reporters Monday.

Searchers still don't know the exact location of the plane, he said, and may need help from other countries with an underwater search.

Transport Minister Ignasius Jonan said the search was focused on an area 70 nautical miles square between the island of Belitung, off Sumatra, and Borneo island., according to Reuters report.
That should make it an easier search than the one carried out for MH370. But what if nothing turns up?
Similar to MH370, with passengers'
cell phones
seemingly operational when they should not have been, a family member of one of the passengers received a
text message
from her brother. She told reporters: "We got word that that the plane made an emergency landing in Belitung Timur, everyone is safe. But we still need to be sure." Then there's this:
Bizarre Chinese forum posts may have predicted doomed AirAsia Flight QZ8501
But that's not all. The same day, another AirAsia flight (
AK6242
) on its way to Malaysia had to make an emergency landing due to "technical problems". Today, Virgin Atlantic flight
VS43
had to circle Gatwick Airport for several hours due to malfunctioning landing gear. Also today, a Jet Airways flight
9W 268
also had to make an emergency landing on its way from Mumbai to Katmandu after one of its engines caught fire:
A Boeing 737-800 of Indian Jet Airways made an emergency landing after one of its engines caught fire when a bird hit its left wing, the Hindu reports.

All 125 passengers and six crew members on board flight from Mumbai to Katmandu are safe.

"Jet Airways flight 9W 268 Mumbai to Kathmandu B737 experienced a bird ingestion on approach and continued the flight with an uneventful and safe landing at Kathmandu," the Times of India reports citing an airline's statement.
Did the pilot see the bird enter the engine? Or could there be
another explanation
?
So what's up with all these plane disasters, problems, and mysteries? Coincidence? Or is the universe perhaps sending a message, that humanity is like Icarus, flying "too close to the sun" for its own good. Icarus fell to the sea and drowned for his hubris. What fate might we be facing for the same fault?