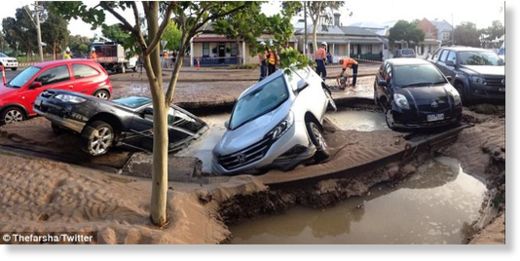 Residents in a Melbourne suburb woke today to find a massive sinkhole that swallowed cars and trees.
Firefighters were called to Port Melbourne early on Tuesday after a 350mm cast iron water main ruptured under Liardet Street.
Witness Vanessa says she thought a tsunami had hit the waterside suburb.
"I heard car horns, car alarms going off erratically. I thought someone had broken into my car," she told Fairfax radio.
"I went out there, opened up my front door and saw two cars swallowed up in the street right outside my front door and all this water gushing down the street in front of me.
"I thought, 'Oh no, we've got a tsunami'."
MFB commander Paul Foster said the torrent threatened to flood 50 houses at one stage.
"It was obviously quite a big failure of the pipe, a big rupture, and it created a sinkhole large enough to swallow one car completely and another car about halfway," he told Fairfax radio.
"As well, a number of cars in the street were affected by the water."