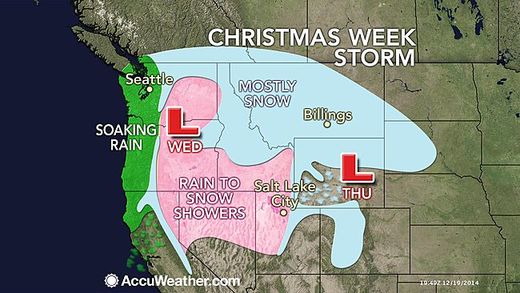 As the train of storms from the Pacific Ocean continues, rounds of rain and mountain snow will fall on areas from the Northwest to the Intermountain West and Rockies through Christmas Day.
A strong storm will affect the Northwest this weekend with gusty winds, heavy low-elevation rain and high-elevation snow.
A second storm will roll ashore on Tuesday with falling snow levels in the Northwest and heavy snow farther inland in the West.
Northwest Storm to Unleash Heavy Rain, Strong Winds This Weekend
According to AccuWeather Meteorologist Brian Lada, "The worst conditions this weekend will hit from the Cascades to the Pacific coast."
A general 4-8 inches (100 to 200 mm) of rain will fall from the upper Oregon coast to Washington's Olympic Peninsula and the southwestern part of Vancouver Island, British Columbia.
A general 2-4 inches of rain are forecast along Interstate 5, from Eugene and Portland, Oregon, to Seattle and Tacoma, Washington. Similar rainfall with locally higher amounts are possible along the west-facing slopes of the Cascades in Oregon and Washington.
Enough rain will fall to raise the risk of mudslides and flash and urban flooding. Small stream flooding is possible due to melting snow and heavy rain on the intermediate elevations of the Cascades.
Gusty winds will accompany the heavy rain, raising the potential for flight delays and localized power outages.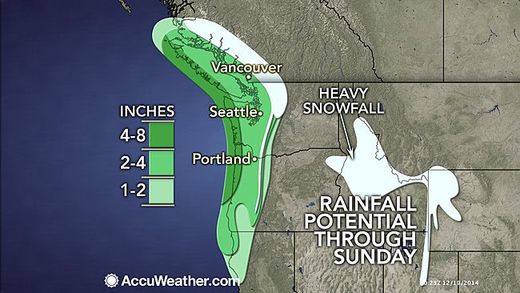 According to AccuWeather Senior Meteorologist Dave Houk, "Gusts will reach as high as 60 mph along the Washington and Oregon coasts on Saturday. Gusts to 40 mph will be common along I-5 from Seattle to Medford, Oregon."
Drenching rain will dip into part of northern California, while some rain will soak northern Nevada and northern Utah this weekend.
After a snowy start to the weekend at the passes in the Cascades, rising temperatures, rain and fog are forecast.
Snow will continue in the high country of the Cascades and will spread to the Bitterroots and Clearwater Mountains this weekend. Several feet of snow may fall on the highest elevations of the central Cascades with a foot or more of snow possible in parts of Idaho.
During Monday into Monday, spotty snow will fall over the central and northern Rockies with a few inches possible around Denver. Meanwhile, a new storm eyes the Northwest.
Snowstorm to Blanket Interior West Christmas Eve, Christmas Day
Unlike the storm this weekend, which will trend warmer, the storm that arrives on Tuesday will trend colder as it pushes inland on Christmas Eve and Christmas Day.
Snow will fall to pass levels in the Cascades and will drop down to the valleys across central and eastern Washington state, Oregon, Idaho, northern Nevada and northern Utah. Only rain will fall around Seattle and Portland.
Snow and slippery travel can progress to the southeast along I-84 and I-90 in this swath during the day and night on Christmas Eve. Rain will change to snow or snow showers, including around Salt Lake City and Boise, Idaho.
Snowy travel is in store for a long stretch of the I-15 and I-25 corridors in Idaho, Montana and Wyoming on Christmas Day.
While the snowstorm will cause travel problems, it will make for plenty of fresh powder on ski country.
The storm is likely to bring a bumper crop of snow from the northern Wasatch Mountains to the Colorado Rockies, northward to the Tetons, Bitterroots, Clearwater and Bighorns, centered on Christmas Day. From 1-2 feet of snow is likely to fall on the mountains with locally higher amounts possible in the high country.
The new round of accumulating snow may not reach Denver until later Christmas night or on Friday. Mild air preceding the Christmas storm will cause any snow around the city to melt.