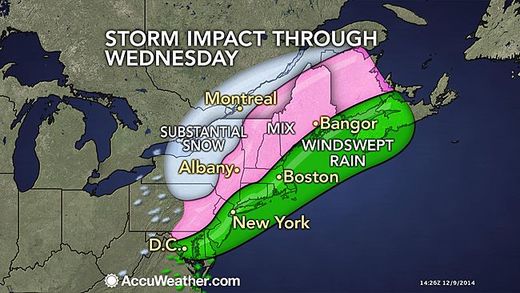 A major storm will impact the Northeast through Thursday, complete with gusty winds, substantial snow, heavy rain, a wintry mix and flooding.
A strengthening storm along the mid-Atlantic coast will push northward on Tuesday, then inland Tuesday night through Thursday.
According to AccuWeather Chief Meteorologist Elliot Abrams, "This will be a snowstorm for some areas well inland, while impacts similar to a tropical storm will occur along the coast, including much of Interstate-95."
Heavy Interior Snow
The heaviest snow, a general 6 to 12 inches is forecast to fall on the Endless, Catskill and Adirondack mountains. Locally higher amounts can occur.
While the snow will be welcome by those with skiing interests, travel will become extremely treacherous and AccuWeather.com Meteorologist Ben Noll stated that the "wet-clinging nature of the snow could lead to downed trees and power outages."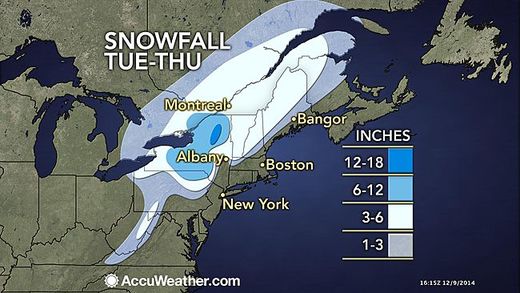 Interstates that could quickly become snow-covered and treacherous for motorists include stretches of 81, 87, 88, 90, 91, and 93 in upstate New York and northern New England.
Outside of the mountains, the rate of the snow in the interior Northeast will determine travel troubles and amounts.
"Marginal temperatures could cause the snow to melt as it falls on some of the roads for a time," stated AccuWeather.com Senior Meteorologist Alex Sosnowski.
"The snow would have to fall at a heavy rate to accumulate on paved surfaces outside of the mountains."
Communities at risk for one or more rounds of heavy snow and slippery travel include Scranton, Pennsylvania; Lebanon, New Hampshire; Caribou, Maine; Binghamton and Syracuse, New York; and Rutland and Burlington, Vermont.
"However, enough warm air could come into some of these areas to switch snow over to a wintry mix, or even rain for a time," Sosnowski said.
Aside from any heavier burst and icy spots to start, the snow should be light enough for much of interstates 68, 70, 79, 80, 81 and 86 in the central Appalachians and toward the eastern Great Lakes to be mainly wet or slushy Tuesday through Wednesday.
In the transition zone from snow to rain in the Northeast, a bit of icing could occur and add to the hazards for motorists. Icy conditions have already led to several accidents and road closures on major highways early Tuesday from central Pennsylvania to northern Virginia.
Downpours, Poor Drainage Flood Threat for I-95
The storm will be a mainly rain event for the I-95 corridor from Boston southward to Washington, D.C., but AccuWeather.com meteorologists will be monitoring the potential for some wet snow at the storm's onset or end.
The rain alone could bring some impacts to residents and travelers. The heavy rain threatens to trigger flooding in low-lying and poor drainage areas.
Airline passengers should prepare for an increasing number of flight delays and cancellations. Poor visibility from wind-swept rain and the risk of hydroplaning will be a concern for motorists. Such travel disruptions will spread from Baltimore, Philadelphia and New York City during the day on Tuesday to Boston for the evening commute.
Strong Wind, Coastal Flooding Potential
The danger of coastal flooding will exist Tuesday from the Delaware and New Jersey beaches to New York City and southern New England, then will increase Tuesday night farther north along the eastern New England coast as howling northeasterly winds whip the region.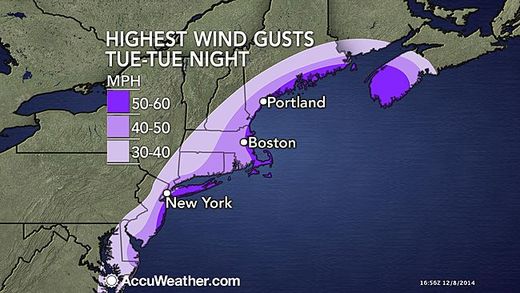 The risk of coastal flooding will generally be limited to within a couple of hours of the scheduled high tides.
The winds along the coast could be strong enough to cause localized damage and power outages. Gusts could top 50 mph on some coastal areas.
The strong onshore winds at the coast will shut off as the storm moves northward and inland at midweek.
Outlook for Wednesday Night and Thursday
Colder air will wrap into the slow-moving storm, along with bands of snow and flurries over New England and the mid-Atlantic during Wednesday night through Thursday.
While there is a chance of a ground whitening snow shower as far east as I-95, the mostly likely area for a small additional accumulation of snow will be in parts of interior New England and the central Appalachians.
Parts of northwestern Pennsylvania and western and central New York state are likely to receive heavier lake-enhanced snow.
Gusty winds from the northwest will add to the chill around the eastern Great Lakes and mid-Atlantic into Friday.