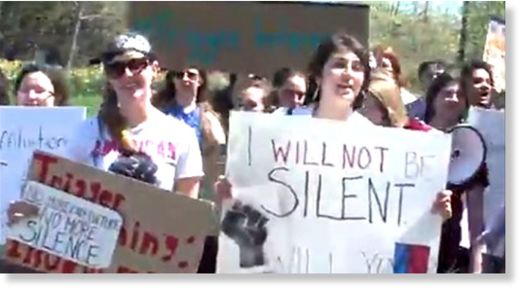 Greek leaders at San Diego State University have announced that they were suspending all fraternity parties and social functions indefinitely after a weekend that not only involved taunting people protesting sexual assault, but also the seventh sexual assault at a fraternity house since the semester began in September,
U-T San Diego
reports
.
The InterFraternity Council admitted that the fraternity members who pelted participants in Friday's Take Back the Night protest against sexual assault with eggs and waved dildos at them behaved in a manner that did "not reflect the values of the Greek community at SDSU."
"I've been to about three demonstrations before," Jordan Busse, who helped organize the Take Back the Night protest,
told
KPBS. "This is the first time where I've actually felt scared."
She said that men at both the Sigma Phi Epsilon and Delta Sigma Phi fraternities shouted obscenities and waved dildos at the protesters, and that drivers along fraternity row threw eggs at them.
On Saturday, police
responded
to a sexual assault on the very same street on which the protesters had been taunted.
This confluence of events prompted Greek leaders to
suspend
all fraternity "social activities in order to focus on educating its members about sexual assault prevention."
Although the suspension is indefinite, critics
noted
that it began the week of Thanksgiving, when no fraternity events are planned because most students return home for the holiday.
However, SDSU student president and Sigma Phi Epsilon member Jonathan Cole told KPBS that "[w]hen we get back, [the length of the suspension] is one of the discussions we'll have."