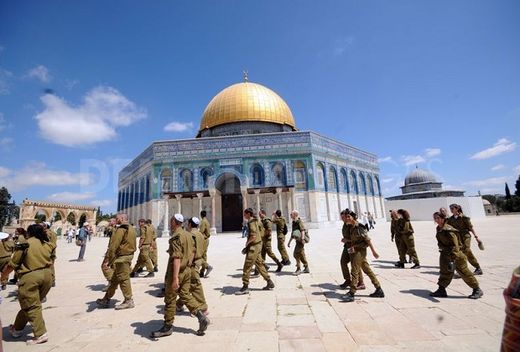 Israeli settlers and officials keep desecrating Al-Aqsa Mosque almost every day
Israeli occupation has decided to demolish Al-Aqsa Mosque and built the so-called Jewish Temple in its place.
Just hours after the Israeli Prime Minister Benjamin
Netanyahu said he would not change the status quo in Al-Aqsa Mosque, one of his minister said that 'Israel' would demolish it and build the Jewish Temple in place of the Mosque.
Israeli Housing Minister Uri Ariel said that 'Israel' cannot maintain the status quo in Al-Aqsa Mosque, which, he
claims
, "was built in the place of the holiest place for Jews".
Speaking to the Israeli
Kol Berama
radio station run by the Jewish extremist movement Shas, Ariel said building the Jewish Temple is the paramount demand of the Torah as it is at the forefront of Jewish salvation.
He expressed hope that the upcoming elections would change the political reality so there would be a chance to take to build the third Jewish Temple.
The extremist minister stressed that the Israeli governments have to respect the views of the public, which support the idea of building the temple.
On Tuesday evening, Ariel told a massive rally of Israeli settlers, who raided Bethlehem, that the time to build in Jerusalem and the West Bank without restriction has come.