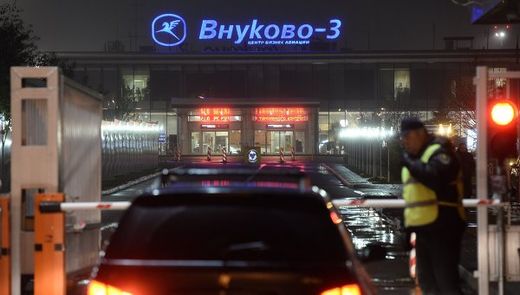 An air traffic controller, who was working a shift at Moscow's
Vnukovo airport
when the private jet of Total CEO
Christophe de Margerie
went down, has been charged in the plane crash case, the Russian Investigative Committee said Thursday.
"Criminal proceedings continue involving other suspects in the case
," Investigative Committee spokesman
Vladimir Markin
said, adding that the suspects, which
include a snowplow driver, a senior airport engineer and a flight supervisor, will be charged in the near future.
Markin added that Alexander Kruglov, the air traffic controller, had already been questioned and placed in custody.
Earlier
an air traffic controller trainee was also charged.
Kruglov was arrested by the Basmanny Court in Moscow last Friday on suspicion of his involvement in a fatal crash involving the plane of French oil and gas giant
Total CEO
.
Judge Valentina Levashova agreed with prosecutors that the dispatcher could disappear, destroy evidence, threaten witnesses, and cohort with coworkers, which would hamper investigations.
A business jet departing for Paris crashed last Monday night at Moscow's Vnukovo-3 Airport after hitting a
snowplow
during takeoff. All four passengers, including CEO of Total Christophe de Margerie and three crew members, died in the accident.