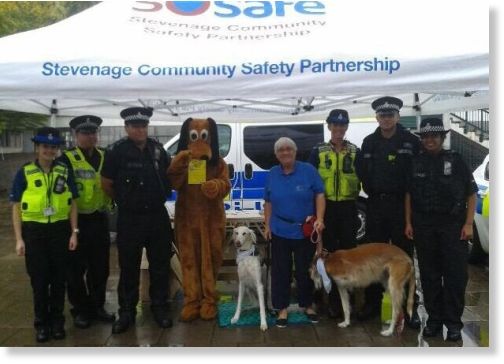 New data reveals there has been a rise of almost

300 per cent rise

in the number of dogs attacks in Stevenage since January.
A total of 31 offences were reported to police in the last 10 months, compared with just 11 in the equivalent period last year.
Now Herts police have launched Is You Dog Fully Under Control? - a campaign that aims to educate people about responsible dog ownership along with the recent changes in the law. The Stevenage Safer Neighbourhood team were in the town centre on Saturday to spread the word.
Officers, Stevenage Borough Council staff and representatives of dog charities were on hand to talk about the changes in the law and give advice on training, identification and other issues.
Sgt Manjit Khela from the team said: "A dog can be dangerously out of control even if it is on a lead.
"The correct level of control needs to be exerted to ensure it does not go on to injure another dog or person.
"If a dog bites a person, it will be seen as being dangerously out of control - but even if the dog does not bite, but gives the person grounds to feel that the dog may injure them, the law still applies."
The Dangerous Dog Act
was amended in May making it illegal to have a dog dangerously out of control anywhere, including on private property. The law applies to any breed and size of dog.
Councillor Robin Parker, leader of the Liberal Democrat group at Stevenage Borough Council, was bitten by a dog while delivering leaflets ahead of the local elections in Ferrier Road in May.
The attack, which left Mr Parker needing antibiotics, took place in a garden on private property and would have not been illegal if it had happened two weeks before.
He said: "The law has changed but not a lot of people seem to be aware of it. I don't know if this has anything to do with the increase in the number of reported incidents but I think it is important that people are aware it's changed.
"It is vitally important that this is brought to their attention as soon as possible."