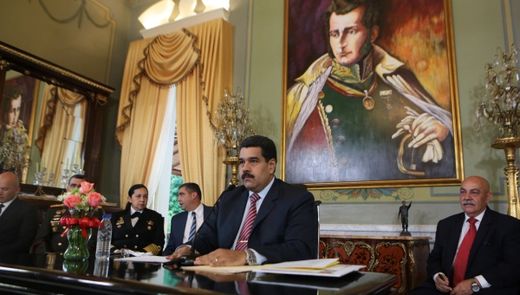 The president of Venezuela called for the elimination of terrorist groups operating in the country.

Venezuelan president Nicolas Maduro, revealed on Wednesday details of the investigation into the murder of legislator Robert Serra.
The young legislator and his partner were murdered in their apartment two weeks ago.
Maduro spoke from the presidential palace, in Caracas and live on public television,
calling for the elimination of both local and foreign terrorist groups active in Venezuela, "plotting" to destablize the country.
"Be absolutely certain that we will get to the masterminds of Serra's murder inside and outside the country," he said.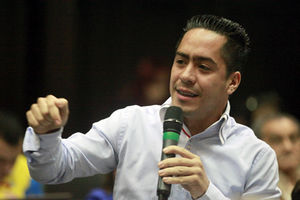 President Maduro asserted that Serra's assassination was planned by a paramilitary leader in Colombia.
He did not identify the leader but explained that he hired a Venezuelan gang to kill Serra. Maduro alleged that Serra's body guard Torres Camacho, was also directly involved. Maduro said the assassination was another attempt to destabilize Venezuela.
The leader of the local gang was identified as
"The Colombian" Padilla Leyva
. People wanted by the Venezuelan courts for the crime include "El Poli" (arrested) who declared in a video that they were practising the crime and checking the apartment, Farinez Palomino, "El Eme", Carlos Garcia Martinez, "Tintin"; Johnny Padilla, "Oreja"; Danny Salinas; Antonio Vegas, "El Toni" (arrested).
"The assasination was planned three months before hand," said Maduro.
During the press conference, Maduro presented a series of videos in which one of the alleged murderers of Serra and his partner, Maria Herrera, confess that they are part of the paramilitary gang lead by "The Colombian."
The first video, from security cameras, showed Serra´s chief of security staff, Edwin Torres, and five others enter Serra´s house. Five minutes later, they run out and ride away on motorcycles. Two other men were waiting for them.
All the gang members have been identified by Venezuela police.
Maduro also announced a hotline so anyone who has information on paramilitary groups and on Serra's assassination can provide it to the government.
Before the presentation of the of the videos, Maduro recalled all the violent incidents that, according to authorities, are or have been
planned by terrorists groups controlled by the far right opposition in Venezuela and abroad, specifically in Miami, and Colombia.
The president said that in the upcoming days, his administration will provide evidence of terrorist leaders living in Miami to U.S. authorities. Venezuela has filed a request to Interpol.
Maduro reminded the press that Venezuelan police arrested, earlier this year, a group of Colombian paramilitary who travelled to Venezuela to kill top ranking politicians.
He also condemned the assassination of Eliezer Otisa, a popular member of the ruling United Socialist Party of Venezuela (PSUV), on April 28, and slammed the violent demonstrations prompted by the oppostition in which over 40 of people were killed.