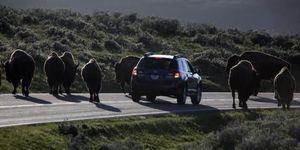 An Indian reservation in Montana will receive 145 bison from Yellowstone National Park that were
quarantined to create a herd free of a disease that threatens ranchers' cattle
, according to a government plan approved on Thursday.
The Montana Fish and Wildlife Commission agreed unanimously to give the bison to the Assiniboine and Sioux Tribes of the Fort Peck Indian Reservation to further the conservation of the country's last herd of wild, purebred buffalo.
The tribe was chosen instead of a proposal to distribute the iconic, hump-shouldered creatures to six organizations across five states, including New York's Bronx and Queens zoos.
"It would be a great celebration at Fort Peck to make this happen," said Becky Dockter, chief legal counsel for Montana's wildlife agency.
The bison, now in confinement at a Montana ranch owned by media mogul Ted Turner, were part of a government experiment that quarantined the animals to produce a band free of the cattle disease brucellosis, which is carried by roughly half of Yellowstone's buffalo.
The success of the experiment, documented in a scientific study issued earlier this year, gave Montana assurance that relocating the bison would not pose a risk of transmitting brucellosis to commercial livestock. The ailment can cause cows to miscarry.
Commissioners adopted the revised plan after calls by buffalo advocates not to send the animals out of state when Indian lands in Montana were suitable and where tribal biologists have already proven they can manage bison
, said Andrea Jones, spokeswoman for Montana Fish, Wildlife and Parks.
In 2012, the Fort Peck tribes saw the historic return of 63 Yellowstone buffalo to their reservation under a plan crafted by state, federal and tribal bison managers.
Montana Fish and Wildlife Commissioner Lawrence Wetsit said the tribes would be open to working with the state on possibly distributing offspring of the brucellosis-free bison to zoos and other proposed recipients like the Cherokee Nation in Oklahoma.
"I'm sure the tribes would be willing to work closely with the state for a percentage of the offspring to go and replenish other herds," he said.
The New York zoos could not immediately be reached for comment on the plan, which must be approved by the head of the state's wildlife agency. It is also subject to review for adverse environmental impacts.
The agreement with the Turner ranch requires the bison be relocated by the end of the year.