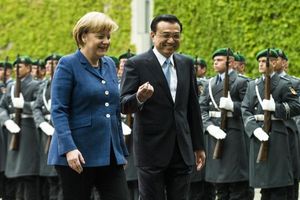 Chinese Premier Li Keqiang will co-chair the "China-Germany Governmental Consultation" in Berlin with German Chancellor Angela Merkel during his visit to Germany that begins on Thursday. The meet is aimed at drawing a new blueprint for Sino-German cooperation in economy, technology and environment protection.
Official figures say bilateral trade accounts for one third of the total China-EU trade volume.
The Chinese Premier said last year that the two countries, the world's top two exporters, could be an "economic dream team" and that Beijing was ready to open up new sectors of its economy to German investors.
From January to August this year, bilateral trade amounted to $117.3 billion, up 12 per cent year on year.
"The two countries are important markets for each other. We are making great efforts to transform our economic structure, change our development mode, and address environmental pollution. This will create a huge demand in the market of environment protection and energy saving. That's where Germany has advantages," said Chinese Ambassador to Germany Shi Mingde in an interview to Chinese state media ahead of Li's visit.
A struggling euro zone economy has intensified the pressure on the German government to look towards Asian markets like China.
Germany had, earlier last year, come out in support of China during
a trade dispute
over the sale of solar cells and wireless equipment in Europe.
Chancellor Angela Merkel had said in May last year that Germany would do everything it could to prevent the trade dispute from escalating
to the point where the EC imposed the import duties on China.
The Chinese Premier had welcomed Germany's call, saying it was because Berlin "wanted to hear" China's stance. "This position, that is what binds China with Germany and earns my appreciation," Li said.
China is keen on German investment in sectors like logistics, education and healthcare.
During her visit to China, earlier this year, Merkel oversaw Chinese and German companies inking a number of agreements
, including buying helicopters from Germany, worth over $400 million and setting up a new automobile manufacturing base in China.
China is a giant market for German luxury cars and state-of-the-art machinery, while Chinese exports to Germany include textiles, electrical goods and toys.
Meanwhile, Li is also scheduled to attend the Hamburg Summit, the largest Chinese-European business meeting and an annual event.